Goodreads helps you keep track of books you want to read.
Start by marking "The Daughter of the Sea and the Sky" as Want to Read:
The Daughter of the Sea and the Sky
After centuries of religiously motivated war, the world has been split in two. Now the Blessed Lands are ruled by pure faith, while in the Republic, reason is the guiding light—two different realms, kept apart and at peace by a treaty and an ocean.

Children of the Republic, Helena and Jason were inseparable in their youth, until fate sent them down different paths. Grief an
...more
Published May 19th 2014 by Evolved Publishing (first published April 12th 2014)
The urge to write first struck at age sixteen when working on a newsletter at a youth encampment in the woods of northern Maine. It may have been the wild night when lightning flashed at sunset followed by the northern lights rippling after dark. Or maybe it was the newsletter's editor, a girl with eyes the color of the ocean. But he was inspired to write about the blurry line between reality and
...more
Related Articles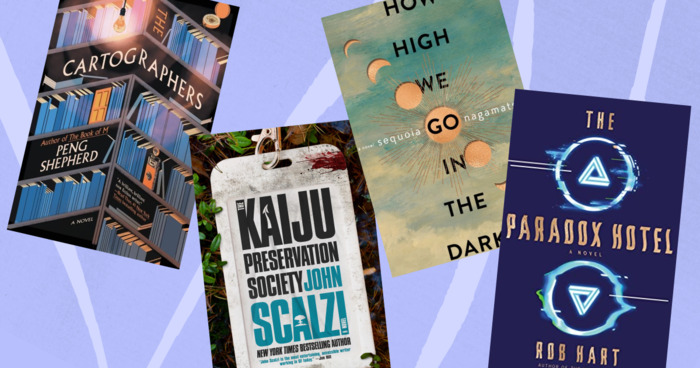 Judging by early reviews and general pop-culture impact, Emily St. John Mandel (Station Eleven) has hit a home run with her latest novel, Sea...
"The prohibition against preaching is to keep people from organizing into groups to impose their beliefs on others."
— 0 likes
"the lawn from a grassy field to a twilit garden. As if on cue, Sebastian arrived leading a parade into the clearing, and called everyone to order. "Honored guests," he shouted, holding his hands out in greeting. "I'm pleased to announce we have record attendance this year. This is in no small part due to the efforts of our friends-of-the-farm coordinator, Benjamin Thorndike, and his new assistant, Jason Adams." Polite applause accompanied an occasional cheer. One woman at the back called out, "Which ones are they, Sebastian?" The managing director scanned the crowd and pointed. "Over there. Benjamin's the one on the porch steps with the camera, taking your pictures. And you can't miss Jason. He's the tallest here, but just in case, raise your hand, Jason." Helena watched, bemused, as Jason raised his hand. He seemed embarrassed, but she thought he was enjoying the celebrity. Once Sebastian completed his welcome, the crowd headed for the food and drink, then milled around sipping apple wine and taking in the scene. Two farm members mounted the steps of the great house and began to play music on a penny whistle and violin, a lilting tune from a time when farmers would gather to celebrate the harvest. A few people came over to meet"
— 0 likes
More quotes…