Goodreads helps you keep track of books you want to read.
Start by marking "The Ultimate Weapon" as Want to Read: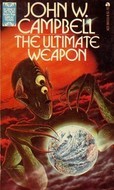 The Ultimate Weapon
The star Mira was unpredictably variable. Sometimes it was blazing, brilliant and hot. Other times it was oddly dim, cool, shedding little warmth on its many planets. Gresth Gkae, leader of the Mirans, was seeking a better star, one to which his "people" could migrate. That star had to be steady, reliable, with a good planetary system. And in his astronomical searching, he
...more
Published June 1st 1977 by Ace Books (first published January 1st 1936)
John Wood Campbell, Jr. was an influential figure in American science fiction. As editor of Astounding Science Fiction (later called Analog Science Fiction and Fact), from late 1937 until his death, he is generally credited with shaping the so-called Golden Age of Science Fiction.
Isaac Asimov called Campbell "the most powerful force in science fiction ever, and for the first ten years of his edito
...more
More about John W. Campbell Jr....