Goodreads helps you keep track of books you want to read.
Start by marking "Benediction (Plainsong, #3)" as Want to Read: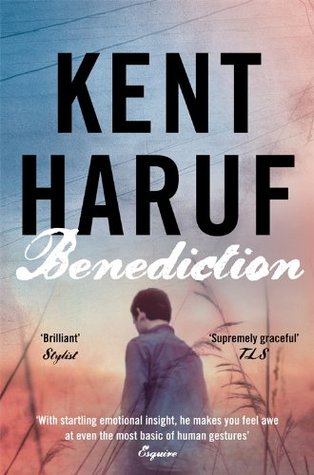 Benediction
When Dad Lewis is diagnosed with terminal cancer, he and his wife, Mary, must work together to make his final days as comfortable as possible. Their daughter, Lorraine, hastens back from Denver to help look after him; her devotion softens the bitter absence of their estranged son, Frank, but this cannot be willed away and remains a palpable presence for all three of them.
...more
Published February 27th 2014 by Picador (first published February 26th 2013)
Kent Haruf was born in eastern Colorado. He received his Bachelors of Arts in literature from Nebraska Wesleyan University in 1965 and his Masters of Fine Arts from the Iowa Writers' Workshop at the University of Iowa in 1973. For two years, he taught English in Turkey with the Peace Corps and his other jobs have included a chicken farm in Colorado, a construction site in Wyoming, a rehabilitation
...more
Other books in the series
"And so we know the satisfaction of hate. We know the sweet joy of revenge. How it feels good to get even. Oh, that was a nice idea Jesus had. That was a pretty notion, but you can't love people who do evil. It's neither sensible or practical. It's not wise to the world to love people who do such terrible wrong. There is no way on earth we can love our enemies. They'll only do wickedness and hatefulness again. And worse, they'll think they can get away with this wickedness and evil, because they'll think we're weak and afraid. What would the world come to?

But I want to say to you here on this hot July morning in Holt, what if Jesus wasn't kidding? What if he wasn't talking about some never-never land? What if he really did mean what he said two thousand years ago? What if he was thoroughly wise to the world and knew firsthand cruelty and wickedness and evil and hate? Knew it all so well from personal firsthand experience? And what if in spite of all that he knew, he still said love your enemies? Turn your cheek. Pray for those who misuse you. What if he meant every word of what he said? What then would the world come to?

And what if we tried it? What if we said to our enemies: We are the most powerful nation on earth. We can destroy you. We can kill your children. We can make ruins of your cities and villages and when we're finished you won't even know how to look for the places where they used to be. We have the power to take away your water and to scorch your earth, to rob you of the very fundamentals of life. We can change the actual day into actual night. We can do these things to you. And more.

But what if we say, Listen: Instead of any of these, we are going to give willingly and generously to you. We are going to spend the great American national treasure and the will and the human lives that we would have spent on destruction, and instead we are going to turn them all toward creation. We'll mend your roads and highways, expand your schools, modernize your wells and water supplies, save your ancient artifacts and art and culture, preserve your temples and mosques. In fact, we are going to love you. And again we say, no matter what has gone before, no matter what you've done: We are going to love you. We have set our hearts to it. We will treat you like brothers and sisters. We are going to turn our collective national cheek and present it to be stricken a second time, if need be, and offer it to you. Listen, we--

But then he was abruptly halted."
— 48 likes
"That was on a night in August. Dad Lewis died early that morning and the young girl Alice from next door got lost in the evening and then found her way home in the dark by the streetlights of town and so returned to the people who loved her. And in the fall the days turned cold and the leaves dropped off the trees and in the winter the wind blew from the mountains and out on the high plains of Holt County there were overnight storms and three-day blizzards."
— 6 likes
More quotes…