Goodreads helps you keep track of books you want to read.
Start by marking "The Staff of Serapis (Percy Jackson & Kane Chronicles Crossover, #2)" as Want to Read:
The Staff of Serapis
The Staff of Serapis is a high-octane new story from Rick Riordan, set in the thrilling and dangerous world of Percy Jackson.

Annabeth Chase is about to encounter more than she expects in the New York subway: a vicious two-headed monster and a young, blonde girl with mysterious powers - Sadie Kane! Together, magician and demigod must face Serapis, a terrifying god who draws
...more
Published April 8th 2014 by Puffin Books
Other books in the series
Related Articles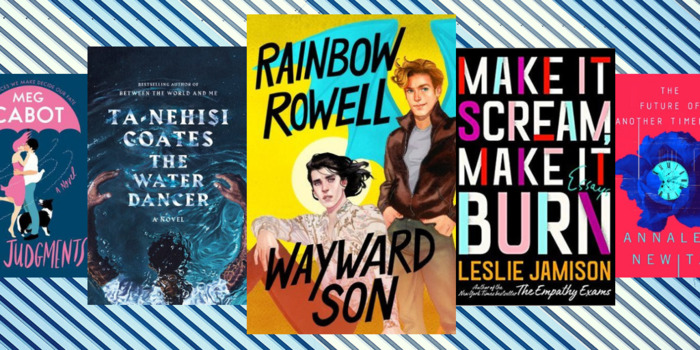 Need another excuse to go to the bookstore this week? We've got you covered with the buzziest new releases of the day. To create our list,...
"This was a few weeks ago," Annabeth said. "Percy told me a crazy story about meeting a boy our near Moriches Bay. Apparently this kid used hieroglyphs to cast spells. He helped Percy battle a crocodile monsters."

"The Sob of Sobek!" Sadie blurted. "But my brother battled that monster. He didn't say anything about-"

"Is your brother's name Carter?" Annabeth asked.

An angry golden aura flickered around Sadie's head-a halo of hieroglyphs that resembled frowns, fists, and dead stick men.

"As of this moment," Sadie growled, "My brother's name is Punching Bag."
— 55 likes
"Oh, I believe you. It's too ridiculous not to be true. It's just that each time my world gets stranger, I think: Right. We're at maximum oddness now. At least I know the full extent of it. First, I find out my brother and I are descended from the pharaohs and have magic powers. All right. No problem. Then I find out my dead father has merged his soul with Osiris and Why not? Then my uncle takes over the House of Life and oversees hundreds of magicians around the world. Then my boyfriend turns out to be a hybrid magician boy/immortal god of funerals. And all the while I'm thinking, Of course! Keep calm and carry on! I've adjusted! And then you come along on a random Thursday, la-di-da, and say, Oh, by the way, Egyptian gods are just one small part of the cosmic absurdity. We've also got the Greeks to worry about! Hooray! "
— 35 likes
More quotes…