Goodreads helps you keep track of books you want to read.
Start by marking "She Is Not Invisible" as Want to Read:
She Is Not Invisible
The feeling that coincidences give us tells us they mean something... But what? What do they mean?

LAURETH PEAK'S father has taught her to look for recurring events, patterns, and numbers - a skill at which she's remarkably talented. When he goes missing while researching coincidence for a new book, Laureth and her younger brother fly from London to New York and must
...more
Published April 22nd 2014 by Roaring Brook Press (first published October 3rd 2013)
Marcus Sedgwick was born in Kent, England. Marcus is a British author and illustrator as well as a musician. He is the author of several books, including Witch Hill and The Book of Dead Days, both of which were nominated for the Edgar Allan Poe Award. The most recent of these nominations rekindled a fascination with Poe that has borne fruit here in (in The Restless Dead, 2007) the form of "The
...more
Related Articles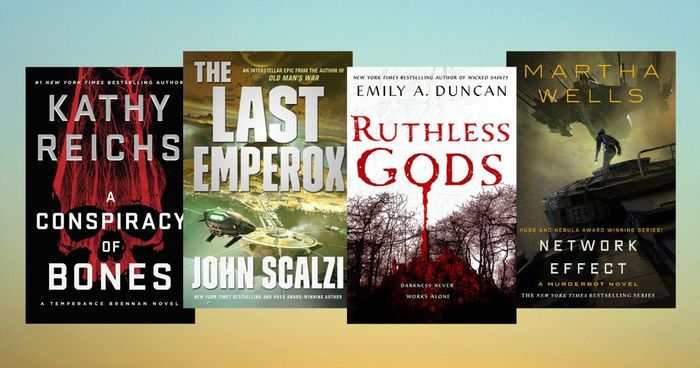 Flowers, birds, and sunshine all return in the spring, and so do many of our favorite book series with their next installments. Some of this sea...
"People think I have so much faith in myself, but I have none. I have no faith in myself, or in what I can do, and yet people think I can do anything I want.
That's how I seem, but it's an illusion. It's an act, nothing more."
— 16 likes
"How do you find a name?"
"In this case, on a shampoo bottle. It's one of the ingredients; Sodium Laureth Sulphate. He thought it was a beautiful word and sounded like a name."
"He's right."
"Mum didn't think so. He swears he told her at the time where it came from, and maybe he did, but she was too ill to remember. I was seven when she found out, and then she hit the roof. 'You named our daughter after a chemical!' That kind of thing."
"I still think it's a cool name," said Sam, and I could hear the smile in his voice. It was a soft voice, too. I liked it.
"And very beautiful," he added.
"Thank you," I said, feeling a little warm inside.
"And that's why I have such a boring name," said Benjamin.
"Oh, hey," said Sam. "That's a cool name, too."
"No, it's not," said Benjamin. "There are two Bens in my class. Mum said she was going to choose my name when I was born. Dad wasn't allowed. So I got a boring name. But that's why Stan's called Stan."
"Because you wanted him to have a boring name, too?"
"Stan's not a boring name. It's short for Stannous."
"Stannous?"
"Stannous Chloride," I said. "It's a chemical. It was on a tube of toothpaste."
Sam laughed.
"Mum hit the roof," said Benjamin, proudly."
— 11 likes
More quotes…