Goodreads helps you keep track of books you want to read.
Start by marking "The Autobiography of Charles Darwin, 1809–82" as Want to Read:
The Autobiography of Charles Darwin, 1809–82
Charles Darwin's Autobiography was first published in 1887, five years after his death. It was a bowdlerized edition: Darwin's family, attempting to protect his posthumous reputation, had deleted all the passages they considered too personal or controversial. The present complete edition did not appear until 1959, one hundred years after the publication of The Origin of Sp
...more
Published September 17th 1993 by W.W. Norton & Company (first published 1887)
Charles Robert Darwin was an English naturalist, eminent as a collector and geologist, who proposed and provided scientific evidence that all species of life have evolved over time from common ancestors through the process he called natural selection. The fact that evolution occurs became accepted by the scientific community and the general public in his lifetime, while his theory of natural selec
...more
Related Articles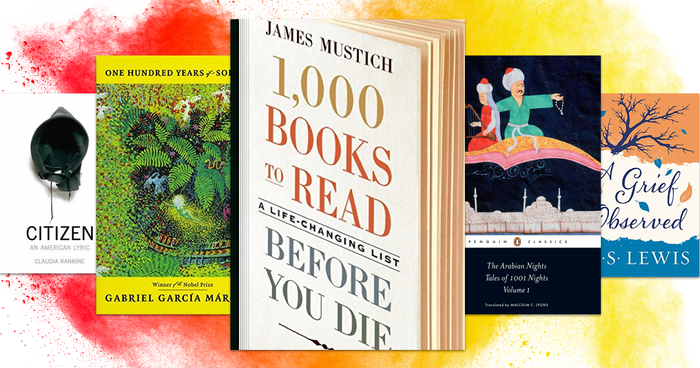 We all have our reading bucket lists. James Mustich's 1,000 Books to Read Before You Die is bound to seriously expand that list...
"If I had my life to live over again, I would have made a rule to read some poetry and listen to some music at least once every week."
— 2812 likes
"...Whilst on board the Beagle I was quite orthodox, and I remember being heartily laughed at by several of the officers... for quoting the Bible as an unanswerable authority on some point of morality... But I had gradually come by this time, i.e., 1836 to 1839, to see that the Old Testament from its manifestly false history of the world, with the Tower of Babel, the rainbow at sign, &c., &c., and from its attributing to God the feelings of a revengeful tyrant, was no more to be trusted than the sacred books of the Hindoos, or the beliefs of any barbarian.

...By further reflecting that the clearest evidence would be requisite to make any sane man believe in the miracles by which Christianity is supported, (and that the more we know of the fixed laws of nature the more incredible do miracles become), that the men at that time were ignorant and credulous to a degree almost uncomprehensible by us, that the Gospels cannot be proved to have been written simultaneously with the events, that they differ in many important details, far too important, as it seemed to me, to be admitted as the usual inaccuracies of eyewitnesses; by such reflections as these, which I give not as having the least novelty or value, but as they influenced me, I gradually came to disbelieve in Christianity as a divine revelation. The fact that many false religions have spread over large portions of the earth like wild-fire had some weight with me. Beautiful as is the morality of the New Testament, it can be hardly denied that its perfection depends in part on the interpretation which we now put on metaphors and allegories.

But I was very unwilling to give up my belief... Thus disbelief crept over me at a very slow rate, but was at last complete. The rate was so slow that I felt no distress, and have never since doubted even for a single second that my conclusion was correct. I can indeed hardly see how anyone ought to wish Christianity to be true; for if so the plain language of the text seems to show that the men who do not believe, and this would include my Father, Brother and almost all of my friends, will be everlastingly punished.

And this is a damnable doctrine."
— 172 likes
More quotes…