Jump to ratings and reviews
**The series number for this book is in chronological order. This is a full-length book of the "Runes" series**

Straight out of the psych ward, Cora just wants her life to be normal. She doesn't want to see souls or the reapers collecting them. The guy she's loved from a distance for years moves away without saying goodbye. So yes, she's nursing a serious heartbreak. It's no wonder love is the last thing on her mind when Echo storms into her life.

The chemistry between them is mind-blowing.The connection defies logic. Even better, the souls leave her alone when he is around.

Too bad Echo is the poster boy for everything she hates in a guy—hot, beautiful,and cocky. He is also a soul reaper. A Grimnir.
The very beings she wants out of her life. Maybe normal is overrated because Cora wants it all. Answers. Love. A life.
348 pages, ebook
First published November 27, 2013
---
---
About the author
Her award-winning, International Bestselling YA Paranormal Romance—Runes Series—started with Runes and has a total of 6 books to date. The last one, Witches, released in March 2015, was a Readers Choice Awards winner. Her most recent addition is Demons, A Runes Companion Novel (Eirik Book 1). Demons is the story of Raines best friend and former crush Eirik Seville.
Her international bestselling YA Urban Fantasy series, The Guardian Legacy Series, focuses on the Nephilim, children of the fallen angels. The series started with Awakened and has a total of 4 books to date. The latest Forgotten was released in June 2015.
She also writes Contemporary Romance as E.B. Walters-from The Fitzgerald Family series and Infinitus Billionaires series.

Whether she's writing about Valkyries, Norns, and Grimnirs, or Guardians, Demons, and Archangels, love, family, and friendship play crucial roles in all her books.

If you enjoyed reading her books, please consider leaving a review. Reviews can make a difference in the ranking of a book.

To be updated on more Runes exclusives, the next book in Eirik's story, giveaways, teasers, and deleted scenes, join her newsletter.

http://bit.ly/EdnahWNewsletter

For the discussion about the series, join her private page on FB: http://bit.ly/EdnahsEliteValkyries

or Stop by my website for a visit:
http://ednahwalters.com

Or join the discussion about the series:
http://bit.ly/FacebookBookGroups

You can also find her on Tumblr,
Pinterest http://bit.ly/EdnaWPinterest
Instagram http://bit.ly/EdnahW-Instagram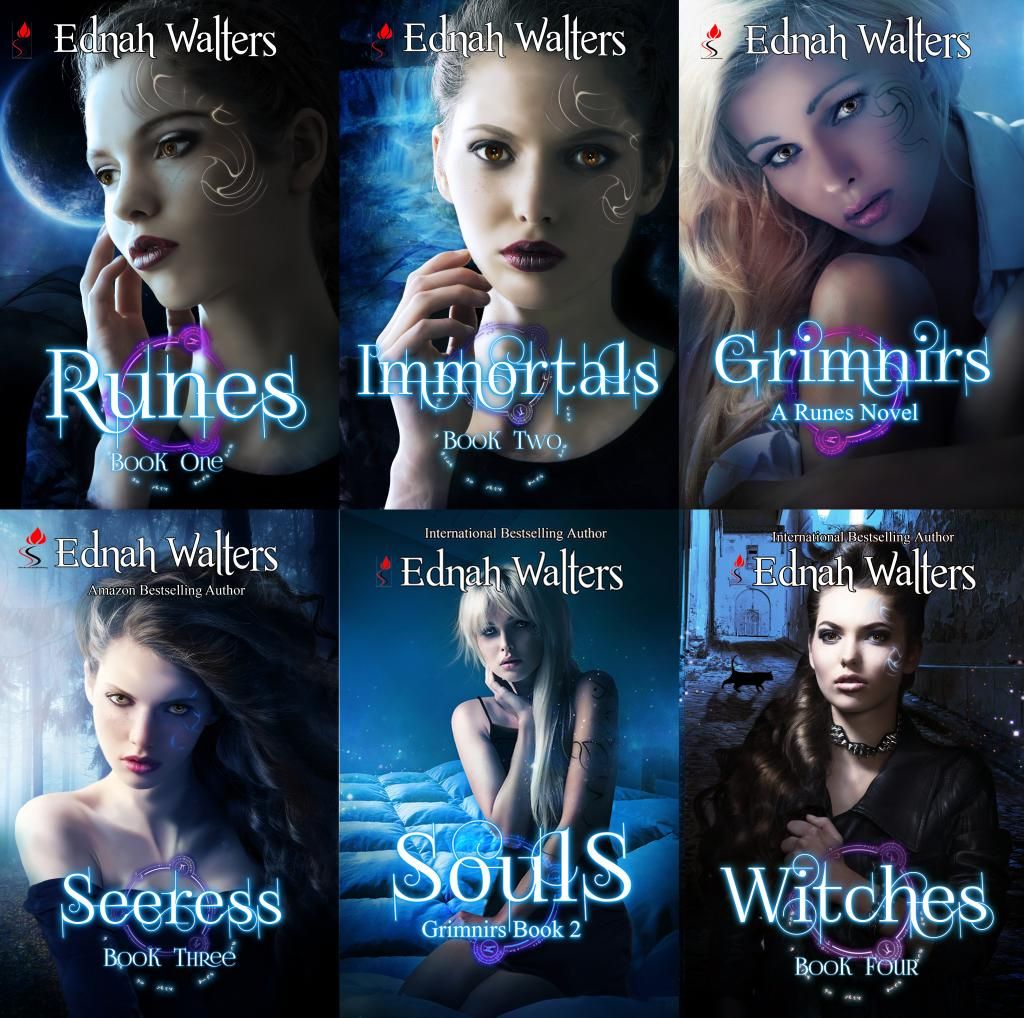 ---
---
Community Reviews
Displaying 1 - 30 of 286 reviews
Displaying 1 - 30 of 286 reviews
Can't find what you're looking for?
Get help and learn more about the design.