Goodreads helps you keep track of books you want to read.
Start by marking "On the Plus Side (Chubby Girl Chronicles, #1)" as Want to Read:
On the Plus Side
Big girls need love, too, but at what cost?

Lilly is loaded, not only with money, but with weight. Both things she could do without. But even with her undesired millionaire status, she doesn't hold on to false hopes of finding true love. So when a sexy stranger comes into her life dripping with seduction, she finds it hard to resist. The bigger they are the harder they fal
...more
Kindle Edition
,
3rd edition
,
283 pages
Published June 2013 (first published January 19th 2013)
Goodreads LIBRARIANS - please check with me before making any changes or additions.

*** I do NOT check my messages on Goodreads. If you would like to contact me, please send me an email at tabathavargowrites@gmail.com


Tabatha is a New York Times & USA Today Bestselling author, best known for her sexy adult romance Little Black Book.
Tabatha writes from all genres, including adult and new adult, and
...more
Other books in the series
Related Articles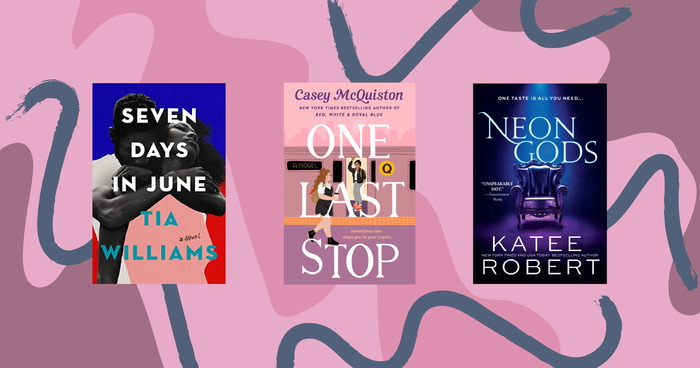 Summer is perfect for plenty of things: mojitos, sleeping with the window fan on, and sprawling out with a hot romance novel (in a heavily...
"I was minutes away from stripping naked and screaming, "Oh yeah, baby, finger my name tag!"
— 4 likes
"I opened the door with a smile on my face that soon melted when I saw his messy appearance.
The doorframe held him up as he leaned all of his weight against it. Expressionless, bloodshot eyes stared back at me as he lifted his hand and ran it roughly down his unshaved face. His hair was disheveled and there was blood on the front of his shirt. Panic rose up as I took him in. I rushed to him and ran my fingers down his body, as I checked for injuries.

"You're bleeding! Oh my God, Devin! What happened? Are you OK?"

"It's not my blood," he slurred.

I took a better look at his gorgeous face. His unfocused eyes attempted to meet mine and it was then that the smell of liquor reached me.

"You're drunk?"

"Abso-fucking-lutely." He attempted to move toward me and almost fell over.

I wrapped my arms around him and helped him into my apartment. Once we made it to the couch I let him collapse onto the cushion before I went straight to work on his clothes. I removed his blood-stained shirt first and threw it to the side. Quickly checked him over again just to be sure that he wasn't injured somewhere. His skin felt cold and clammy against my fingertips.

His knuckles were busted open, so I went to the bathroom and got a wet towel and the first aid kit. I cleaned his fingers then wrapped them up.

I felt fingers in my hair and looked up to see a very drunk Devin staring back at me.
"You're so fucking beautiful," he whispered as his heavy head fell against the back of my couch again.

Shaking my head, I dropped onto my knees on the floor and removed his boots.
Once I was done getting Devin out of his shoes, I went to the hallway closet and pulled out a blanket for him. When I got back to the couch, he was standing there looking back at me in all his tattooed, muscled glory. He was still leaning a bit to the side when his eyes locked on mine.

"Come here," he rasped.

He looked as if he was about to crumble and I couldn't tell if it was the alcohol or if something was really breaking him down.

"Are you OK, baby?" I asked.

He closed his eyes and sighed. "I love it when you call me baby."

I went to him and he groaned as I softly ran my hands up his chest and put my arms around his neck. On my tiptoes, I softly kissed the line of his neck and his chin.

"Tell me what happened, Devin."

When he finally opened his eyes, he looked at me differently. The calm and collected Devin was gone and an anxiety-ridden shell of a man stood before me. His shoulders felt tense beneath my fingers and his eyes held a crazed demeanor.

"I need you, Lilly." He captured my face softly in his hands as he slurred the words.

"Please tell me what happened?"

"Make it go away, baby," he whispered as he leaned in and started to kiss me.

I let him as I melted against his body. He collapsed against the couch once more, but this time he took me with him. Not once did he break our kiss, and soon, I felt his velvet tongue against mine. I kissed him back and let my fingers play in the hair at the back of his neck.

He broke the kiss and started down the side of my neck.

"I need you, Lilly," he repeated against my skin.

"I'm here." I bit at my bottom lip to stop myself from moaning.

"Please, just make it all go away," he drunkenly begged.

"I don't know what's going on, but tell me what to do to make it better. I want to make it better, Devin." I stopped him and stared into his eyes as I waited for his response.

"Don't leave me," he said desperately.

"I'm not going anywhere. I'm here. I'll do whatever it takes to make it better." I wanted to cry.

He looked so hurt and afraid. It was strange to see such a strong, confident man so lost and unsure.

He flipped me onto my back on the couch and crawled on top of me. His movements were less calculated—slower than usual.

"I want you. I need to be inside you," he said aggressively."
— 2 likes
More quotes…