Goodreads helps you keep track of books you want to read.
Start by marking "Talonridge" as Want to Read: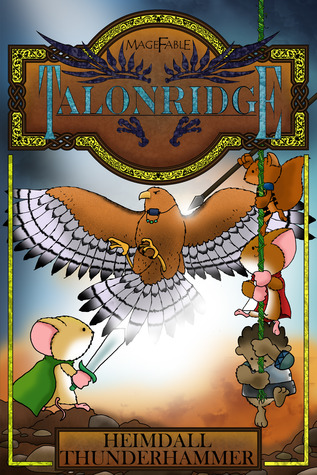 Talonridge
Durbin the young mouse saved the forest of Verdancia from a horde of savage rodents. Then he helped Clove find the hidden Elemental's temple where she received the second spell in her quest to become a geomancer. But in the process, the group lost their trusted guide and ally. Durbin must now take the lead, knowing only that their next destination is the vast fields of Kor
...more
Published August 2013 by Eagershelm Publishing
Heimdall Thunderhammer was born where the rocky tor meets the frigid shore. His home a rustic village sitting upon a cliff below an ever-stormy gray sky. And during the time of year when the frost clings to the roots of the trees, the northern lights can be seen glimmering off the far horizon. The small cottage in which Heimdall Thunderhammer was born sits on the far eastern edge of the village, m
...more
More about Heimdall Thunderhammer...