Goodreads helps you keep track of books you want to read.
Start by marking "Kith: The Riddle of the Childscape" as Want to Read:
Kith: The Riddle of the Childscape
Kith is a passionate examination of what it means to be a child, by Jay Griffiths, the award-winning author of Wild.

While travelling the world in order to write her award-winning book Wild, Jay Griffiths became increasingly aware of the huge differences in how childhood is experienced in various cultures. One central riddle, in particular, captured her imagination: Why are
...more
Published March 7th 2013 by Hamish Hamilton
Jay Griffiths was born in Manchester and studied English Literature at Oxford University. She spent a couple of years living in a shed on the outskirts of Epping Forest and has travelled the world, but for many years she has been based in Wales.
Related Articles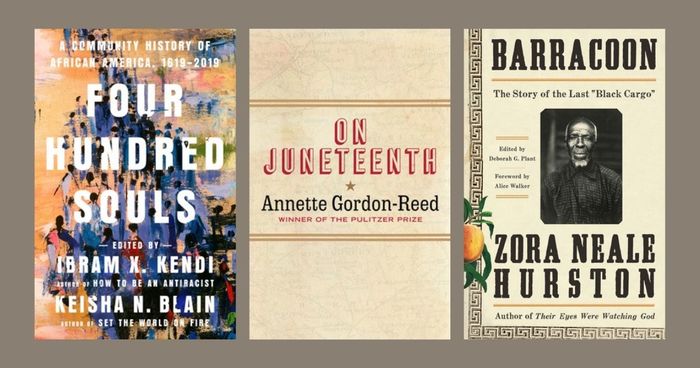 Juneteenth, observed on June 19th each year, is an American holiday commemorating the day in 1865 when the last enslaved people in Galveston,...
"Every generation of children instinctively nests itself in nature, no matter matter how tiny a scrap of it they can grasp. In a tale of one city child, the poet Audre Lord remembers picking tufts of grass which crept up through the paving stones in New York City and giving them as bouquets to her mother. It is a tale of two necessities. The grass must grow, no matter the concrete suppressing it. The child must find her way to the green, no matter the edifice which would crush it.

"The Maori word for placenta is the same word for land, so at birth the placenta is buried, put back in the mothering earth. A Hindu baby may receive the sun-showing rite surya-darsana when, with conch shells ringing to the skies, the child is introduced to the sun. A newborn child of the Tonga people 'meets' the moon, dipped in the ocean of Kosi Bay in KwaZulu-Natal. Among some of the tribes of India, the qualities of different aspects of nature are invoked to bless the child, so he or she may have the characteristics of earth, sky and wind, of birds and animals, right down to the earthworm. Nothing is unbelonging to the child.

"'My oldest memories have the flavor of earth,' wrote Frederico García Lorca. In the traditions of the Australian deserts, even from its time in the womb, the baby is catscradled in kinship with the world. Born into a sandy hollow, it is cleaned with sand and 'smoked' by fire, and everything -- insects, birds, plants, and animals -- is named to the child, who is told not only what everything is called but also the relationship between the child and each creature. Story and song weave the child into the subtle world of the Dreaming, the nested knowledge of how the child belongs.

"The threads which tie the child to the land include its conception site and the significant places of the Dreaming inherited through its parents. Introduced to creatures and land features as to relations, the child is folded into the land, wrapped into country, and the stories press on the child's mind like the making of felt -- soft and often -- storytelling until the feeling of the story of the country is impressed into the landscape of the child's mind.

"That the juggernaut of ants belongs to a child, belligerently following its own trail. That the twitch of an animal's tail is part of a child's own tale or storyline, once and now again. That on the papery bark of a tree may be written the songline of a child's name. That the prickles of a thornbush may have dynamic relevance to conscience. That a damp hollow by the riverbank is not an occasional place to visit but a permanent part of who you are. This is the beginning of belonging, the beginning of love.

"In the art and myth of Indigenous Australia, the Ancestors seeded the country with its children, so the shimmering, pouring, circling, wheeling, spinning land is lit up with them, cartwheeling into life....

"The human heart's love for nature cannot ultimately be concreted over. Like Audre Lord's tufts of grass, will crack apart paving stones to grasp the sun.
Children know they are made of the same stuff as the grass, as Walt Whitman describes nature creating the child who becomes what he sees:

There was a child went forth every day
And the first object he look'd upon, that object he became...
The early lilacs became part of this child...
And the song of the phoebe-bird...

In Australia, people may talk of the child's conception site as the origin of their selfhood and their picture of themselves. As Whitman wrote of the child becoming aspects of the land, so in Northern Queensland a Kunjen elder describes the conception site as 'the home place for your image.' Land can make someone who they are, giving them fragments of themselves."
— 8 likes
"My brothers and I spent weeks with our grandparents by the sea where we learned so much more than it may have seemed. Not because we saw an actual shipwreck but because we saw the potential for it. Not because we actually found treasure but because we could feel the immanence of treasure at every seashore... We fished for wishes and caught them; we swam to find mermaids and became them; and we dived for pearls and returned with a stick, a bit of litter, a coin or the makings of a joke. Pearls, in other words. We learned about tides and chance, storms and sun, the vicissitudes of what is lost and found, flotsam and jetsam, castaway luck, islands, sea-songs, rings, riddles and pledges. (page 47)"
— 4 likes
More quotes…