Goodreads helps you keep track of books you want to read.
Start by marking "Boy-Crazy Stacey (The Baby-Sitters Club, #8)" as Want to Read:
Boy-Crazy Stacey
Spending two weeks at the New Jersey shore as mother's helpers, Mary Anne objects when Stacey neglects her babysitting duties after falling in love with Scott the lifeguard.
...more
Published December 1st 1995 by Scholastic (first published 1987)
Ann Matthews Martin was born on August 12, 1955. She grew up in Princeton, New Jersey, with her parents and her younger sister, Jane. After graduating from Smith College, Ann became a teacher and then an editor of children's books. She's now a full-time writer.

Ann gets the ideas for her books from many different places. Some are based on personal experiences, while others are based on childhood me
...more
Other books in the series
Related Articles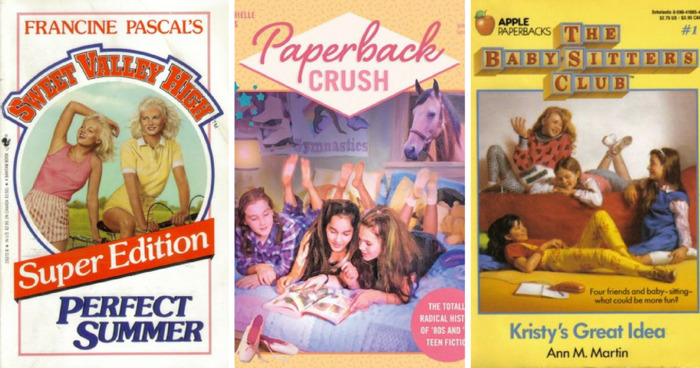 Gabrielle Moss has charted the history of '80s and '90s YA novels, from The Baby-Sitters Club to Wildfire, in Paperback Crush: The...
"Here we are," said Mallory, running up to me, pulling Margo along. "Oh, thank goodness." Mary Anne and I counted the Pikes about five times before we were satisfied that they were all safe and sound. "I want to see the shark!" cried Nicky, jumping up and down. So did I. "Okay," I said. "Let's walk down the beach, away from this crowd." Mary Anne and the other kids followed us. When we had a little space, we held our hands to our eyes, blocking the glare of the sun, and stared out to sea. "I think I see something!" exclaimed Byron. "Where?" we all asked. He pointed. "See? Sort of over to the left?" I could make out a faraway shape, but it looked like a seagull bobbing on the waves. Later, Adam swore he could see five fins circling around, but nobody else saw them. At last we gave up. We walked back to the lifeguard stand. The crowd was dispersing. Scott and Bruce were back on duty. I saw a good opportunity to ask Scott a question. "Hi," I said to him, leaning against the base of the stand and squinting up. "Hi, love." Love! Scott had called me love! Of course, he meant his love. When I recovered, I managed to say, "So were there really sharks?" "It looked that way. Sometimes it's hard to tell, but it's better to be safe than sorry." "I'll say." Scott wiped his brow. "It's going to be a hot one." "So you want a soda or something?" I asked eagerly. "You"
— 0 likes
"It's awfully hard helping your parents grow up. But it has to be done."
— 0 likes
More quotes…