Goodreads helps you keep track of books you want to read.
Start by marking "Kundalini Tantra" as Want to Read:
Kundalini Tantra
This Book presents a systematic and pragmatic approach to the awakening of kudalini, which arouses greater intelligence from it's sleep and you can give birth to a new range of creativity.
Published October 1st 2002 by Yoga Publications Trust
Swami Satyananda Saraswati was a sannyasin, yoga teacher and guru in both his native India and the West. He founded the International Yoga Fellowship in 1956 and the Bihar School of Yoga in 1963. He has authored over 80 books, including the well-known Asana Pranayama Mudra Bandha, recognised internationally as one of the most systematic yoga manuals today. Since its first publication by the Bihar
...more
News & Interviews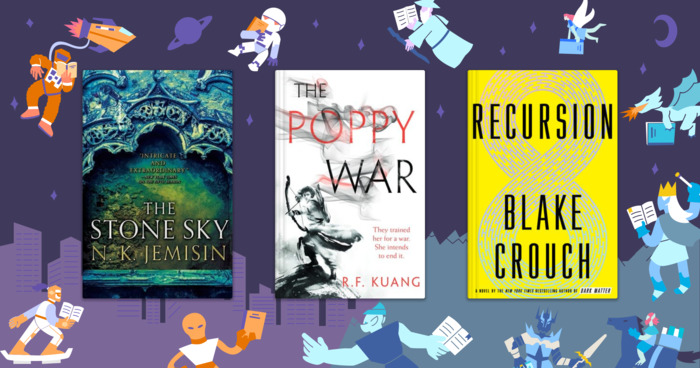 Myths and mayhem, the fantastical and the scientifically plausible, these are readers' most popular sci-fi and fantasy novels published in the ...
"Assim como no regime da criação, Shakti é o criador e Shiva é o testemunho de todo o jogo, no tantra a mulher tem o estado do guru e o homem do discípulo. A tradição tântrica é atualmente passada da mulher para o homem, na prática tântrica, é a mulher quem inicia. É só por seu poder que o ato de maithuna acontece. Todas as preliminares são feitas por ela. Ela coloca a marca na testa do homem e fala pra ele meditar. Na relação ordinária, quem controla é o homem e a mulher participa. Mas no tantra eles trocam de papéis. A mulher torna-se a operadora e o homem o seu intermédio. Ela tem que ser capaz de despertá-lo. então, no momento certo, ela deve criar o bindu para que ele possa praticar vajroli. Se o homem perde seu bindu, significa que a mulher não conseguiu realizar suas funções adequadamente.
No tantra se diz que Shiva é incapaz sem Shakti. Shakti é a sacerdotisa. Portanto, quando Vama marga é praticado, o homem deve ter uma atitude absolutamente tântrica com a mulher. Ele não pode comportar-se com ela como os homens geralmente fazem com outras mulheres. Normalmente, quando um homem olha uma mulher, ele torna-se apaixonado, mas durante o maithuna ele não deve. Ele deve vê-la como a mãe divina, a Devi, e aproximar-se dela como uma atitude de devoção e entrega, não com luxúria.
De acordo com o conceito tântrico, as mulheres são mais dotadas de qualidades espirituais e seria uma coisa sábia se elas assumissem posições elevadas na área social. Então, haveria maior beleza, compaixão, amor e compreensão em todas as esferas da vida. O que estamos discutindo aqui não é sociedade patriarcal versus matriarcal, mas tantra.
No relacionamento entre marido e mulher, por exemplo, há dependência e posse, enquanto que no tantra cada parceiro é independente, um para si mesmo. Outra coisa difícil na sadhana tântrica é cultivar a atitude de impassionalidade. O homem tem de se tornar praticamente um bramacharya, a fim de libertar a mente as emoções dos pensamentos sexuais e da paixão, que normalmente surgem na presença de uma mulher.
Ambos os parceiros devem ser absolutamente purificados e controlados interna e externamente antes de praticar o maithuna. É difícil para a pessoa comum compreender isto porque para a maioria das pessoas a relação sexual é o resultado da paixão e da atração emocional ou física, tanto para a procriação quanto para o prazer. É somente quando você está purificado que estes instintos sexuais estarão ausentes. Isto acontece porque, de acordo com a tradição, o caminho do Dakshina marga deve ser seguido por muitos anos antes do caminho do Vama marga poder ser iniciado. Então, a interação do maithuna não acontece por uma gratificação física. O propósito é muito claro – o despertar de sushumna, o aumento da energia de Kundalini no mooladhara chakra e a explosão nas áreas inconscientes do cérebro.
Se isto não ficar claro, quando você praticar os kriyas e sushumna se tornar ativa, você não será capaz de confrontar o despertar. Sua cabeça vai ficar quente e você nãos será capaz de controlar a paixão e o excitamento, porque você não tranqüilizou seu cérebro.
Portanto, em minha opinião, somente aqueles que são adeptos no yoga estão qualificados para o Vama marga. Este caminho não é para ser usado indiscriminadamente como um pretexto para a auto-indulgência. Ele se destina para os sadhakas maduros e chefes de família sérios, que são evoluídos, que têm praticado sadhana para despertar o potencial energético e atingir o samadhi Eles devem utilizar este caminho como um veículo para o despertar, caso contrário torna-se um caminho de queda."
— 3 likes
"Na mitologia hindu, o despertar de Kali foi descrito em muitos detalhes. Quando Kali se ergue vermelha de raiva, todos os deuses e demônios ficam aturdidos e todo mundo fica em silêncio. Eles não sabem o que ela vai fazer. Eles pedem ao Senhor Shiva para pacificá-la, mas Kali ruge ferozmente jogando-o para abaixo e de pé sobre seu peito, com sua boca aberta, sedenta por carne e osso. Quando os devas realizam orações para pacificar Kali, ela se torna calma e tranqüila.
...
De acordo com a filosofia do yoga, Kali, a primeira manifestação do inconsciente, é um poder terrível; ela domina completamente a alma individual, representada por sua posição sobre o Senhor Shiva. Às vezes acontece que, pela instabilidade mental, algumas pessoas entram em contato com seu corpo inconsciente e vêem elementos ferozes e pouco auspiciosos – fantasmas, monstros, etc. quando Kali, o poder inconsciente do homem, é despertada, ela eleva-se até encontrar a manifestação mais adiante, o superconsciente, a outorgadora de gloria e perfeição."
— 2 likes
More quotes…