Goodreads helps you keep track of books you want to read.
Start by marking "Babel-17" as Want to Read:
Babel-17
Babel-17 is all about the power of language. Humanity, which has spread throughout the universe, is involved in a war with the Invaders, who have been covertly assassinating officials and sabotaging spaceships. The only clues humanity has to go on are strange alien messages that have been intercepted in space. Poet and linguist Rydra Wong is determined to understand the la
...more
Published June 1st 1978 by Gregg Press (first published May 1966)
Samuel Ray Delany, also known as "Chip," is an award-winning American science fiction author. He was born to a prominent black family on April 1, 1942, and raised in Harlem. His mother, Margaret Carey Boyd Delany, was a library clerk in the New York Public Library system. His father, Samuel Ray Delany, Senior, ran a successful Harlem undertaking establishment, Levy & Delany Funeral Home, on 7th Av
...more
Related Articles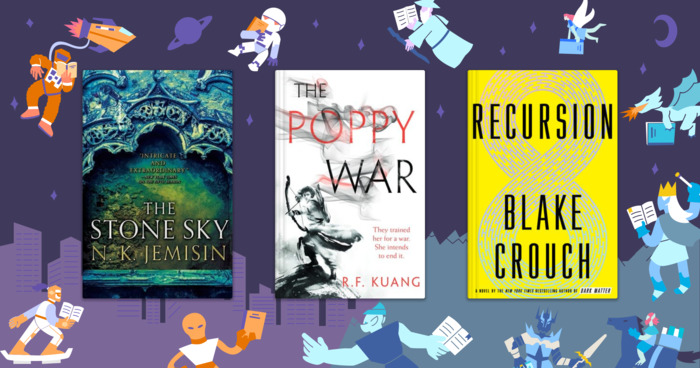 Myths and mayhem, the fantastical and the scientifically plausible, these are readers' most popular sci-fi and fantasy novels published in the ...
"ABSTRACT THOUGHTS in a blue room; Nominative, genitive, etative, accusative one, accusative two, ablative, partitive, illative, instructive, abessive, adessive, inessive, essive, allative, translative, comitative. Sixteen cases of the Finnish noun. Odd, some languages get by with only singular and plural. The American Indian languages even failed to distinguish number. Except Sioux, in which there was a plural only for animate objects. The blue room was round and warm and smooth. No way to say warm in French. There was only hot and tepid If there's no word for it, how do you think about it? And, if there isn't the proper form, you don't have the how even if you have the words. Imagine, in Spanish having to assign a sex to every object: dog, table, tree, can-opener. Imagine, in Hungarian, not being able to assign a sex to anything: he, she, it all the same word. Thou art my friend, but you are my king; thus the distinctions of Elizabeth the First's English. But with some oriental languages, which all but dispense with gender and number, you are my friend, you are my parent, and YOU are my priest, and YOU are my king, and YOU are my servant, and YOU are my servant whom I'm going to fire tomorrow if YOU don't watch it, and YOU are my king whose policies I totally disagree with and have sawdust in YOUR head instead of brains, YOUR highness, and YOU may be my friend, but I'm still gonna smack YOU up side the head if YOU ever say that to me again;
And who the hell are you anyway . . .?"
— 26 likes
"Sometimes you want to say things, and you're missing an idea to make them with, and missing a word to make the idea with. In the beginning was the word. That's how somebody tried to explain it once. Until something is named, it doesn't exist."
— 23 likes
More quotes…