Goodreads helps you keep track of books you want to read.
Start by marking "Cinnamon Roll Murder (Hannah Swensen, #15)" as Want to Read:
Cinnamon Roll Murder
With the Cinnamon Roll Six jazz band heading toward Lake Eden for the Weekend Jazz Festival, Hannah Swensen is more than happy to bake up a generous supply of their namesake confections. But tragedy strikes when the band's tour bus overturns on its way into town. Among those injured is Buddy Neiman, the band's beloved keyboard player. At first, Buddy's injuries appear mino
...more
Published March 1st 2012 by Kensington
Like Hannah Swensen, Joanne Fluke grew up in a small town in rural Minnesota where her neighbors were friendly, the winters were fierce, and the biggest scandal was the spotting of unidentified male undergarments on a young widow's clothesline. She insists that there really are 10,000 lakes and the mosquito is NOT the state bird.

While pursuing her writing career, Joanne has worked as: a public sch
...more
Other books in the series
Related Articles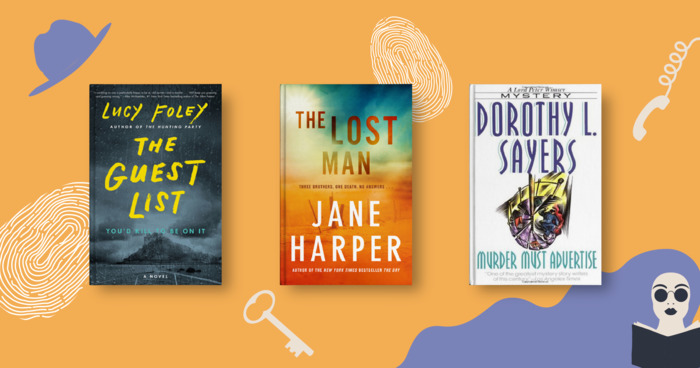 Die-hard mystery fans are always on the hunt for their next supremely satisfying whodunit. To help you stock that Want to Read shelf, we asked...
"STUFFIN' MUFFINS Preheat oven to 350 degrees F., rack in the middle position. 4 ounces salted butter (1 stick, 8 Tablespoons, ¼ pound) ½ cup finely chopped onion (you can buy this chopped or chop it yourself) ½ cup finely chopped celery ½ cup chopped apple (core, but do not peel before chopping) 1 teaspoon powdered sage 1 teaspoon powdered thyme 1 teaspoon ground oregano 8 cups herb stuffing (the kind in cubes that you buy in the grocery store—you can also use plain bread cubes and add a quarter-teaspoon more of ground sage, thyme, and oregano) 3 eggs, beaten (just whip them up in a glass with a fork) 1 teaspoon salt ½ teaspoon black pepper (freshly ground is best) 2 ounces (½ stick, 4 Tablespoons, pound) melted butter ¼ to ½ cup chicken broth (I used Swanson's) Hannah's 1st Note: I used a Fuji apple this time. I've also used Granny Smith apples, or Gala apples. Before you start, find a 12-cup muffin pan. Spray the inside of the cups with Pam or another nonstick cooking spray OR line them with cupcake papers. Get out a 10-inch or larger frying pan. Cut the stick of butter in 4 to 8 pieces and drop them inside. Put the pan over MEDIUM heat on the stovetop to melt the butter. Once the butter has melted, add the chopped onions. Give them a stir. Add the chopped celery. Stir it in. Add the chopped apple and stir that in. Sprinkle in the ground sage, thyme, and oregano. Sauté this mixture for 5 minutes. Then pull the frying pan off the heat and onto a cold burner. In a large mixing bowl, combine the 8 cups of herb stuffing. (If the boxed stuffing you bought has a separate herb packet, just sprinkle it over the top of the mixture in your frying pan. That way you'll be sure to put it in!) Pour the beaten eggs over the top of the herb stuffing and mix them in. Sprinkle on the salt and the pepper. Mix them in. Pour the melted butter over the top and mix it in. Add the mixture from your frying pan on top of that. Stir it all up together. Measure out ¼ cup of chicken broth. Wash your hands. (Mixing the stuffing is going to be a lot easier if you use your impeccably clean hands to mix it.) Pour the ¼ cup of chicken broth over the top of your bowl. Mix everything with your hands. Feel the resulting mixture. It should be softened, but not wet. If you think it's so dry that your muffins might fall apart after you bake them, mix in another ¼ cup of chicken broth. Once your Stuffin' Muffin mixture is thoroughly combined, move the bowl close to the muffin pan you've prepared, and go wash your hands again. Use an ice cream scoop to fill your muffin cups. If you don't have an ice cream scoop, use a large spoon. Mound the tops of the muffins by hand. (Your hands are still impeccably clean, aren't they?) Bake the Stuffin' Muffins at 350 degrees F. for 25 minutes. Yield: One dozen standard-sized muffins that can be served hot, warm, or at room temperature. Hannah's 2nd Note: These muffins are a great accompaniment to pork, ham, chicken, turkey, duck, beef, or . . . well . . . practically anything! If there are any left over, you can reheat them in the microwave to serve the next day. Hannah's 3rd Note: I'm beginning to think that Andrea can actually make Stuffin' Muffins. It's only April now, so she's got seven months to practice."
— 2 likes
"GERMAN PANCAKES Preheat oven to 375 degrees F., rack in the middle position.   Prepare an 8-inch square pan by spraying it with Pam or another nonstick cooking spray, or coating the inside with butter. Hannah's 1st Note: You can double this recipe if you like, so that it will serve 8 people. If you double this recipe, it will take approximately 55 minutes to bake. Hannah's 2nd Note: This dish works best if you use an electric mixer. 6 strips bacon (I used applewood smoked bacon) 4 large eggs 1 cup whole milk (I've used heavy cream and that works also) 1 cup flour (Just scoop it up and level it off with a table knife.) 1 teaspoon vanilla extract 1 teaspoon salt 4 ounces cream cheese (half of an 8-ounce package) minced parsley to sprinkle on top (optional) Fry the bacon in a frying pan on the stovetop until it's crispy. Let it cool to room temperature, and then crumble it into the bottom of your baking pan. In an electric mixer, beat the eggs with half of the milk (that's ½ cup). Continue to beat until the mixture is light and fluffy. Add vanilla extract and salt. Beat until they're well combined. Mix in the flour and beat for 40 seconds. Add the second half of the milk (another ½ cup) and beat until everything is light and fluffy. Pour half of the mixture over the bacon crumbles in the 8-inch square pan. Cut the cream cheese into 1-inch-square cubes. Place them evenly over the egg mixture in the pan. Pour the second half of the mixture over the cream cheese. Bake at 375 degrees F. for 45 to 55 minutes, or until it's golden brown and puffy on top. Hannah's 3rd Note: This breakfast entree is excellent when served with biscuits or crispy buttered toast."
— 1 likes
More quotes…