Goodreads helps you keep track of books you want to read.
Start by marking "Cómo acabar de una vez por todas con la cultura" as Want to Read: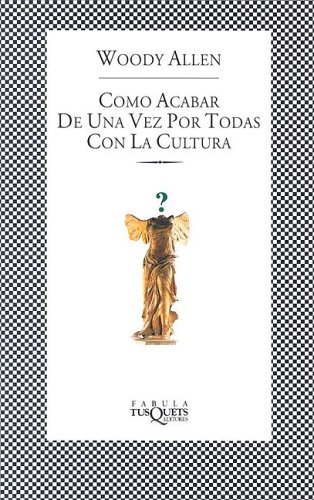 Cómo acabar de una vez por todas con la cultura
Woody Allen ha sido siempre un provocador. Con esa pinta de infeliz que no se come una rosca, se permite insolencias que ni siquiera los más «duros» pueden a veces perdonar. Tras ser expulsado de la New York University y del City College, se dedicó a lo que realmente le interesaba: escribir para la radio y la televisión. También escribió su primer guión cinematográfico: Wh
...more
Published June 1st 1996 by TusQuets (first published 1966)
Heywood "Woody" Allen (born Allan Stewart Konigsberg) is a three-time Academy Award-winning American film director, writer, actor, jazz musician, comedian and playwright. His large body of work and cerebral film style, mixing satire, wit and humor, have made him one of the most respected and prolific filmmakers in the modern era. Allen writes and directs his movies and has also acted in the majori
...more
More about Woody Allen...
"She wore a short skirt and a tight sweater and her figure described a set of parabolas that could cause cardiac arrest in a yak."
— 30 likes
"These modern analysts! They charge so much. In my day, for five marks Freud himself would treat you. For ten marks, he would treat you and press your pants. For fifteen marks, Freud would let you treat him, and that included a choice of any two vegetables. Thirty dollars an hour! Fifty dollars an hour! The Kaiser only got twelve and a quarter for being Kaiser! And he had to walk to work! And the length of treatment! Two years! Five years! If one of us couldn't cure a patient in six months we would refund his money, take him to any musical revue and he would receive either a mahogany fruit bowl or a set of stainless steel carving knives. I remember you could always tell the patients Jung failed with, as he would give them large stuffed pandas."
— 13 likes
More quotes…