Goodreads helps you keep track of books you want to read.
Start by marking "An Emperor for the Legion (The Videssos Cycle, #2)" as Want to Read: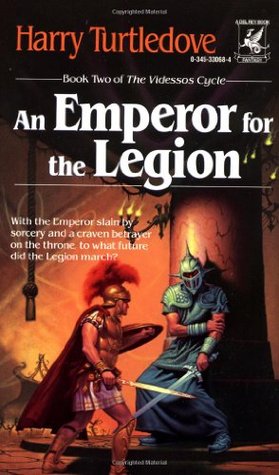 Foul sorcery had slain the Emperor. Now the army of Videssos, betrayed by one man's craven folly, fled in panic from the savage victors. But there was no panic in the Legion, mysteriously displaced from Gaul and Rome into this strange world of magic.

Wearily, Tribune Marcus Scaurus led his men through the chaos and enemy hordes in search of winter quarters, to regroup and s
...more
Published April 12th 1987 by Del Rey (first published 1987)
Dr Harry Norman Turtledove is an American novelist, who has produced a sizeable number of works in several genres including alternate history, historical fiction, fantasy and science fiction.

Harry Turtledove attended UCLA, where he received a Ph.D. in Byzantine history in 1977.

Turtledove has been dubbed "The Master of Alternate History". Within this genre he is known both for creating original sce
...more
More about Harry Turtledove...
Other Books in the Series