News and Interviews
Author Kim Harrison's Favorite Fantasy Series
Posted by Cybil on July 29, 2017

Sponsored by Ready Player One. Soon to be a major motion picture directed by Steven Spielberg.
Kim Harrison
thought she'd said goodbye to her best-selling
Hollows series
with the publication of
The Witch With No Name
, but found she missed writing about magic so much she returned to it this year with a prequel,
The Turn
. In her latest novel, the familiar characters of the Hollows emerge from the shadows to save humanity in the wake of a world-wide, tomato-born pandemic.
Harrison took a break from the paranormal genre for several years to write a Bond-meets-Jason Borne thriller series,
the Peri Reed Chronicles
. Now she's back to writing urban fantasy, and plans on juggling several series since having fallen in love with her new work featuring older characters fighting age, the system, and those annoying "new hires" in order to get the job done.
Harrison's pleasure reading is a scatter shot within the wider scope of fantasy. Here are the debut books of five of her favorite character-driven, binge-worthy, series that have stuck with her.
Skinwalker (Jane Yellowrock) by Faith Hunter
"Saddled with a past she doesn't remember, Jane can pull on her native American heritage to shift into a mountain lion—which comes in handy when she's trying to both survive and work with the New Orleans' vampire families. The big cat's soul vying with Jane's for control makes for surprising reading. This series sits at eleven, and has spawned a sister series, allowing for binge reading at its finest."
Scent of Shadows (Signs of the Zodiac) by Vicki Pettersson
"The superhero mythology superimposed on a zodiac backbone all amid the lights of modern Las Vegas: What's not to love? Not your usual urban fantasy, but that's what I liked about it. Joanna Archer is one tough woman, and I enjoyed watching her make the hard decisions. The series run six books."
Sandman Slim (Sandman Slim) by Richard Kadery
"Nicotine and octane in equal parts might come close to the high-energy buzz that seeps through Richard's writing. Crisp world building, recognizable and fully-realized characters, and a refreshingly unique storytelling style make for an absorbing read. If you like your urban fantasy gritty, this might be for you. And it just keeps getting better with the series standing at nine books."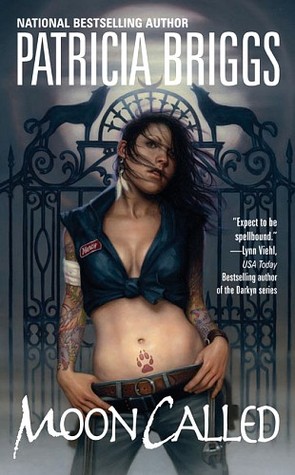 Dragonsong (Harper Hall of Pern series) by Anne McCaffery
"A blast from the past, and not urban fantasy, but urban fantasy wasn't a thing when I was ten. Thanks to Anne, I have been dreaming of dragons for a very long time, and when they show up again in my writing, I know I have Anna to blame. Menolly was my hero, and the idea of a small, winged protector sitting on my shoulder has haunted my own work—you don't have to look close to see it. Dragonsong is an offshoot series from the Dragonriders of Pern, which has been out for ages and spawned many side series, but my favorites are the first six or so."
What's your favorite urban fantasy novel? Share it with us in the comments.

See the complete coverage of Sci-Fi & Fantasy Week including:
Top 50 Favorite Fantasy Novels on Goodreads
Top 10 YA Fantasy Books
Author Terry Brooks' Guide for Fantasy Readers



Comments
Showing 1-41 of 41
(41 new)
date
newest »
back to top