Goodreads Blog
Summer Reading for Authors: 8 Books About Book Marketing
Posted by Cynthia on May 22, 2017
Author Dashboard
, but you might also consider adding these eight titles to your Want-to-Read shelf to brush up on your marketing skills:
How to Market a Book
by
Joanna Penn
Filled with short-term tactics to kick up immediate sales, long-term tactics to develop an author platform, this essential book from the marketing guru behind The Creative Penn helps authors change their ways of thinking about marketing.
Show Your Work
by
Austin Kleon
The first step to being discoverable means you have to put things out there to for others to discover. Kleon creates a user's manual for embracing the communal nature of creativity and how to let others into your process.
Book Launch Blueprint
by
Tim Grahl
You can decide to publish your book… or you can launch it. Tim Grahl has worked with top bestselling authors and has created more than dozens of bestselling titles. This book gives authors a step-by-step guide as to how to prepare for your next book publication date.
Everybody Writes
by
Ann Handley
Whether you're writing a book or a blog, you're creating content that is meant to attract readers. Get expert guidance and insight into the process and strategy of content creation, production and publishing.
Let's Get Visible
by
David Gaughran
Visibility is something you have to consistently work on. This guide is geared for more experienced self-publishers interested in maximizing their book's chance to stand out.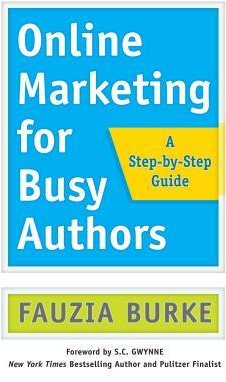 Online Marketing for Busy Authors
by
Fauzia Burke
There's never been a better time to be an author! For the first time, authors have direct access to their readers via social media channels. Learn how to make the most effective use of your time and identify your personal brand with this step-by-step guide from a digital marketing pioneer.
Are there other books that have been helpful to you in your marketing endeavors? Share your recommendations in the comments below!
Next: Marketing Advice from Bestselling Author S. Jae-Jones
You might also like:
Planning a Marketing Timeline: Infographic
Goodreads Authors can subscribe to the Monthly Author Newsletter by editing their
account settings.
Summer is just around the corner (it was about time!), which means you'll hopefully get some quality reading done. You can tell readers via Ask the Author what you're reading for fun this summer by answering the question on your
Comments
Showing 1-10 of 10
(10 new)
date
newest »
back to top