News and Interviews
Atwood Expands The Handmaid's Tale in New Audiobook
Posted by Cybil on March 29, 2017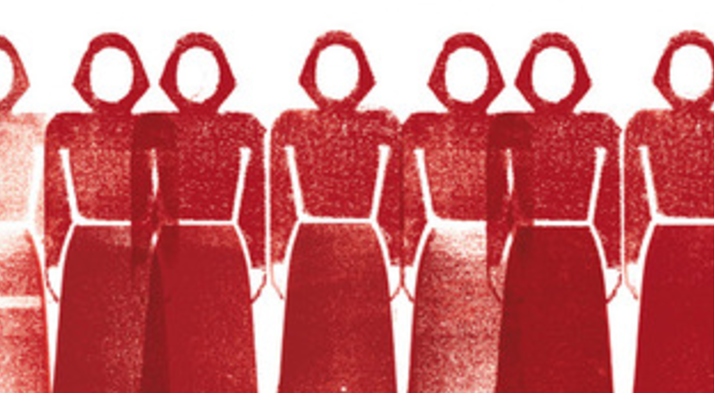 This post is brought to you by Audible.
"Are there any questions?"
That
was
the final sentence of Margaret Atwood's dystopian feminist classic
The Handmaid's Tale
. But now, just as the novel is being adapted into a
10-part series for Hulu
, Atwood has updated the audiobook version of her 1985 work exclusively for
Audible
.
are
questions to answer. The new section of this audiobook will pick up after that final line.
In
The Handmaid's Tale
, a violent coup has overthrown the U.S. government and an oppressive new regime, the Republic of Gilead, has taken its place. In this new order, Offred is no longer a free American, but a Handmaid assigned the task of procreation for the Commander and his wife. Offred navigates Gilead's dangers as she records her story.
The original book ends far into the future, the year 2195, as those attending a symposium listen to a historian talk about Offred's tapes and what they can discern from her recordings about life in the now extinct Gilead. The audiobook features a Q&A between the chair of the symposium, the historian, and members of the audience.
While the original text is performed by actress Claire Danes, this addition to the U.S. version of the audiobook is performed by a full cast.
"I'm delighted to see the novel that I wrote over thirty years ago come alive on new platforms every year," Atwood said in a statement. "The roots of my original book are in audio—Offred's story was recorded, not written, and even the 'Historical Notes' are a voice—so I was excited to extend the story with additional material meant specifically to be heard. … The Handmaid's Tale is alive, it seems — and like all living things, it grows and multiplies!"
Check out more recent blogs:
The 2017 Hugo Award Finalists Are Here
What's New This Week: 7 Great Books Hitting Shelves Today
21 Books to Read Before They Become 2017's Biggest Adaptations
Comments
Showing 1-26 of 26
(26 new)
date
newest »
back to top