News and Interviews
A Rebel's Reading List: The Books Victoria Aveyard Recommends for Her Own Heroine
Posted by Hayley on February 7, 2017
Books contain a great deal of power. No one knows this better than Victoria Aveyard, author of the Red Queen series which brings superhero-like abilities into a YA fantasy world. As King's Cage, the third entry in the series, hits bookshelves, Goodreads asked Aveyard to share the books that would help her beleaguered heroine, Mare, rise up against her tormentors.
When
Glass Sword
ended, Mare was left in chains as a sacrifice to save her friends, a prisoner to protect a rapidly expanding rebellion. Her path to imprisonment was fraught with fatal missteps and horrific choices. She is, after all, a teenager barely keeping her head above water. She is bound to fail, to fall. And hopefully, eventually, move forward. Rise. Resist.
There is no greater weapon in the world than words, and now, with all Mare's other weapons taken away, they are the only ones left to her. If given the chance, she would leap for books to strengthen her mind, her heart, and her determination to survive. Against a broken boy king, in the face of a totalitarian government bent on dividing, conquering, and controlling her world, Mare might find solace in a few books familiar to us.
Within
Harry Potter and the Order of the Phoenix
by
J.K. Rowling
, the boy wizard faces a world like Mare's, under the tyrant thumb of Professor Umbridge, and the willfully ignorant, ineffectual Ministry seeking to deny the growing terrors of Voldemort's return. Though it features the last rays of sunlight before night falls on the Wizarding World, there is hope in this book, and hope will keep Mare alive.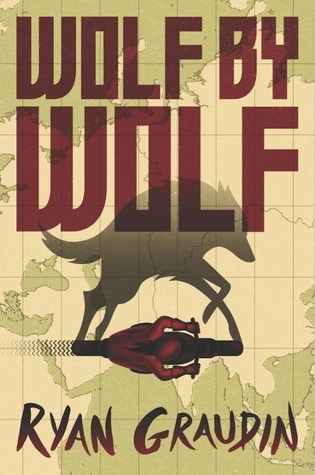 Between the pages of
Wolf by Wolf
and its sequel,
Blood for Blood
, both by
Ryan Graudin
, Yael, a rare survivor of the Holocaust has extraordinary powers. He is the key to overthrowing a victorious Nazi Reich and the Empire of Japan. Her courage, strength, and constant struggle with her own morality would comfort Mare, who also seeks balance between becoming a hero and becoming a monster.
William L. Shirer
's
The Rise and Fall of the Third Reich
, chronicles the seeds of Hitler's Nazi empire through the end of World War II. It holds necessary wisdom for Mare…and for anyone who believes in understanding history so that it might never be repeated. Recognizing the gathering clouds of tyranny is the best way to weather, and defeat, the coming storm.
An Ember in the Ashes
by
Sabaa Tahir
would be more than welcome in Mare's imprisonment, another testament to rebellion, resistance, and the indomitable strength of women who fight back in every way they can. In Laia, a daughter of a people subjugated by another crushing empire, Mare would find not just comfort and determination, but understanding. They are both flawed in their pursuit of freedom, and in this, there is no shame. There is great importance in the flawed female. A phrase that, in truth, means, the real female. A real person. For there is nothing and no one without flaw or imperfection. To see that reflected in
An Ember in the Ashes
would be a gift to Mare, one that might help her heal scars inside and out.
Victoria Aveyard's King's Cage is on sale now. Add the entire series to your Want to Read shelf!
What books would you recommend to Mare? Share them with us in the comments.
And check out more recent
blogs
:
Rereading Is Here! Let's Say It Again. Rereading Is Here!

36 Romantic Book-to-Movie Adaptations

The Best Inspirational Quotes from Books
Comments
Showing 1-50 of 89
(89 new)
back to top