News and Interviews
21 Fall Film Adaptations
Posted by Catherine on September 19, 2016
Hollywood has long looked to literature for inspiration. Indeed, some of the most famous movies ever made have been based on books—think
The Godfather, To Kill a Mockingbird, Doctor Zhivago, The Big Sleep, No Country for Old Men, The Shining, Gone with the Wind
, and
The Martian
, not to mention all the
Harry Potter
films and
The Wizard of Oz
. This fall is no exception with a number of highly-anticipated adaptations coming to the big screen. Popular books such
Miss Peregrine's Home for Peculiar Children
by
Ransom Riggs
and the bestselling thriller
The Girl on the Train
by
Paula Hawkins
are among the most buzzed about. Others include next month's
American Pastoral
, based on the
Philip Roth
book, and
Inferno
, from the
Dan Brown
novel. We've highlighted some of the adaptations heading your way this fall. Check out our list below and tell us which movies you're excited—or perhaps nervous—about seeing!
SEPTEMBER RELEASES
The Dressmaker
September 23
Based on the bestselling Australian novel by
Rosalie Ham
Starring Kate Winslet, Liam Hemsworth, and Hugo Weaving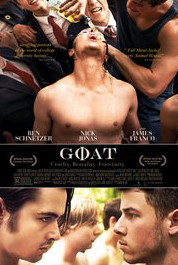 Goat
September 23
Based on the 2004 memoir by by
Brad Land
Starring Ben Schnetzer, Nick Jonas, and James Franco
OCTOBER RELEASES
American Pastoral
October 21
Based on the Pulitzer Prize-winning novel by
Philip Roth
Starring Ewan McGregor, Dakota Fanning, and Jennifer Connelly
NOVEMBER RELEASES
Arrival
November 11
Based on the short story "Story of Your Life" by
Ted Chiang
Starring Amy Adams, Jeremy Renner, and Forest Whitaker
DECEMBER RELEASES
Julieta
December 21
Based on three short stories from
Runaway
by
Alice Munro
Starring Adriana Ugarte, Rossy de Palma, and Emma Suarez
Which film adaptations are you looking forward to the most? Which are you dreading? Tell us all your book-to-film thoughts in the comments!
Comments
Showing 1-50 of 69
(69 new)
back to top