News and Interviews
10 Book Weddings That Made Us Believe in Happily Ever After
Posted by Hayley on February 10, 2016
Here comes the fictional bride and groom! For
#RomanceWeek16
, we've invited ourselves back to the book weddings that made us swoon, smile, laugh, and cry. From intimate candlelit ceremonies to blowout bashes, these are the ceremonies—and receptions!—we wished we had been invited to in real life (plus one wedding we're looking forward to "attending" in just a couple of months).
Anne and Gilbert's Wedding
Anne's House of Dreams
by
L.M. Montgomery
Why we love it:
"Gilbert, waiting for her in the hall below, looked up at her with adoring eyes. She was his at last, this evasive, long-sought Anne, won after years of patient waiting."
Claire and Jamie's Wedding
Outlander
by
Diana Gabaldon
Why we love it:
"The pressure of his fingers on mine increased. I had the impression that we were holding each other up; if either of us let go or looked away, we would both fall down. Oddly, the feeling was mildly reassuring. Whatever we were in for, at least there were two of us."
Jamie and Landon's Wedding
A Walk to Remember
by
Nicholas Sparks
Why we love it:
"I kissed Jamie softly as my mother began to cry, then held Jamie's hand in mine. In front of God and everyone else, I'd promised my love and devotion, in sickness and in health, and I'd never felt so good about anything."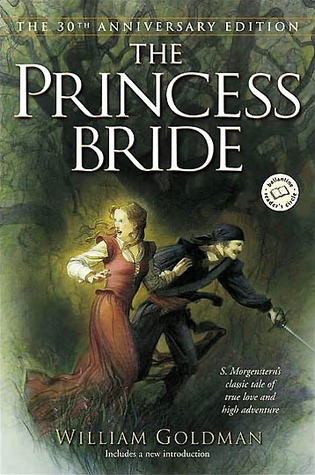 Buttercup and Humperdinck's Wedding
The Princess Bride
by
William Goldman
Why we love it:
"Mawidge is a dweam wiffin a dweam. The dweam of wuv wapped wiffin the gweater dweam of everwasting west. Eternity is our fwiend, wemember that, and wuv wiw fowwow you fowever." (Some weddings are so bad they're good.)
Clare and Henry's Wedding
The Time Traveler's Wife
by
Audrey Niffenegger
Why we love it:
"The Mass proceeds, and I think this is all that matters: he's here, I'm here, it doesn't matter how long, as long as he's with me…. We walk down the aisle, arm in arm, together."
Jane and Rochester's Wedding
Jane Eyre
by
Charlotte Brontë
Why we love it:
"Reader, I married him. A quiet wedding we had: he and I, the parson and clerk, were alone present."
Judith and Iain's Wedding
The Secret
by
Julie Garwood
Why we love it:
"'Judith, do you take Iain for your husband?'
She looked up at Iain before giving her answer. 'We'll see.'
'That won't do, lass. You've got to say I do,' he advised.
'Do I?'"
Annie and Finnick's Wedding
Mockingjay
by
Suzanne Collins
Why we love it:
"Dancing transforms us. We teach the steps to the District 13 guests. Insist on a special number for the bride and groom. Join hands and make a giant, spinning circle where people show off their footwork."
Juliet and Romeo's Wedding
Romeo and Juliet
by
William Shakespeare
Why we love it:
"Conceit, more rich in matter than in words, brags of his substance, not of ornament: They are but beggars that can count their worth; but my true love is grown to such excess I cannot sum up sum of half my wealth."
Eva and Gideon's Wedding
One with You
by
Sylvia Day
Why we love it:
Yes, this tumultuous couple eloped earlier in the wildly popular
Crossfire
series, but we're still holding out for their big
official
day. Coming this April 2016…we're totally crashing.
Who's your favorite book couple? Share with us in the comments!
(Top image credit:
Starz's Outlander
, based on
Outlander
by
Diana Gabaldon
.)
Comments
Showing 1-50 of 200
(200 new)
back to top