News and Interviews
Inspiring the Artist in Everyone: Writers and Artists Share Handwritten Lists of Their Favorite Influential Books
Posted by Hayley on February 2, 2016
Here at Goodreads we're inspired by stories and essays and art—but what inspires the people who create them? We partnered with
ForYourArt
and asked writers and artists to share the books that influenced their lives and their careers. The project is called
EVERBOOKS
. Click the handwritten lists below to explore the recommendations.
And for Los Angeles readers, we have an extra special treat. On February 12, you can attend
EVERBOOKS: Artists and Writers Read from Their Favorite Books
, moderated by art curator
Hans Ulrich Obrist
, at the Million Dollar Theater, in conjunction with
Printed Matter, Inc.
's
LA Art Book Fair
. The event is free for ForYourArt and Goodreads readers. (Just use the ticket code "Goodreads" when checking out!)
Learn more here
.
Miranda July, author of No One Belongs Here More Than You

Janet Fitch, author of White OleanderRodney McMillian, artist


Lisa See, author of Snow Flower and the Secret Fan


Mungo Thomson, artist Catherine Opie, photographer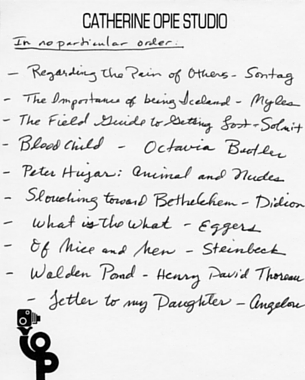 Eleanor Antin, artist


Aram Saroyan, poet and novelist
Ana Prvacki, artist



Adriana Ramic, artist

William Leavitt, artist




Barbara T. Smith, performance artist


Joseph Mosconi, Fright Catalog artist

Mary Weatherford, artist




Jesse Stecklow, artist


Aimee Bender, author Billy Al Bengston, artist


Meg Cranston, artist Piero Golia, artist


Vanessa Place, writer Lisa Anne Auerbach, artist


William E. Jones, artist




What books have inspired and influenced your life? Share them with us in the comments.
Comments
Showing 1-50 of 58
(58 new)
back to top