News and Interviews
Love Your Fire Tablet? We Have New Goodreads Features For You! (U.S., Canada & Australia)
Posted by Suzanne on November 20, 2014
Ever read a book and been left with a burning question?
"So, what really happened to the diamond?"
Or have you wanted some advice from readers before starting a book?
"Is this suitable for a teenager?"
We've now introduced our Reader Q&A feature to the Goodreads app for Fire Tablets to help you ask and answer questions along with your fellow readers!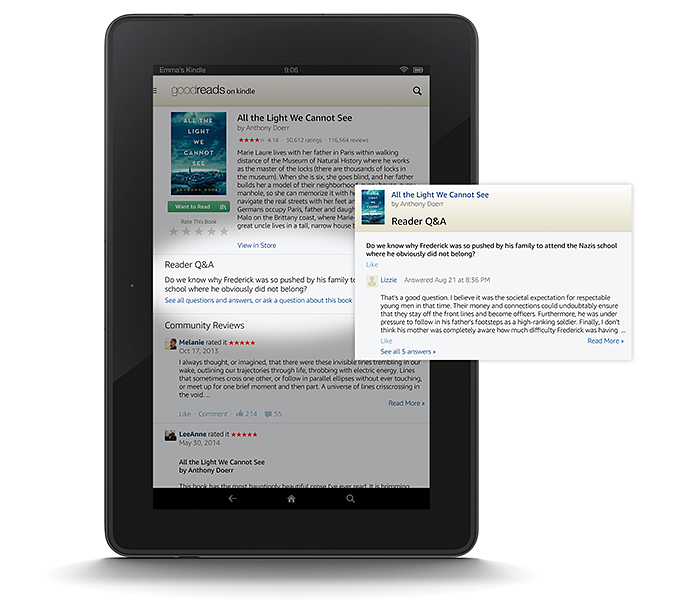 Reader Q&A is just one of many new features in the latest Goodreads update now available on Fire HD 6, Fire HD 7, and Fire HDX 8.9, as well as the Fire HDX.
Want to share which book you're currently reading? Easy peasy—click on the About the Book link and you'll find the option there.
Can't believe what just happened in chapter 5 and need to share it with your friends on Goodreads, Facebook, and Twitter? Now you can share a comment and where you are in the book, from inside the book! No more switching over to our app to update your progress on Goodreads.
Other features include:
See updates from your Goodreads friends about what they are reading,
Share highlights/quotes (and add notes to these) as you read,
Keep track of the books you read and want to read,
Read reviews from your friends and from the Goodreads community,
Rate and review books, and
Import books purchased on Amazon to your Goodreads shelves to ensure you have a complete catalog of your reading.
Goodreads is available on the new Fire HD 6, Fire HD 7, and Fire HDX 8.9 tablets in the U.S., Canada, and Australia.
We don't have details to share about introducing Goodreads for Fire tablets to other countries at this time, but our goal is to provide the Goodreads on Kindle experience to as many of our members as possible. In the meantime, other options to consider are Goodreads on our
iPhone/iPad app
or our Android app, available from the
Amazon Appstore for Android
or from
Google Play
.
Comments
Showing 1-35 of 35
(35 new)
date
newest »
back to top