Goodreads Blog
Marketing Advice from Successful Young Adult Author Jenni James
Posted by Cynthia on March 29, 2018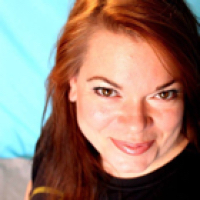 Jenni James wasn't born a writer, but in 2008 she sat down to get a story out of her mind and onto the page. After numerous re-writes and feedback from readers on Wattpad, that story would eventually become her book, Pride & Popularity, which she published in 2011. Seeing how well a modern adaptation of a classic story resonated with readers, she kept writing. Despite plenty of personal and professional setbacks over the years, Jenni is now the successful author of forty books and several screenplays. One of her books, Not Cinderella's Type, was turned into a movie and is currently streaming on Amazon. She released the third book in her Regency Romance Series last month, with quite a few more books planned to be written and released this year.

We asked the mother of eleven (!) to share her publishing journey with us and tell us how she arrived at her happily ever after.
Tell us a little about how you started out writing your stories. What motivated and inspired you?
I never wanted to be an author—like, ever. I loved reading books but thought writing one would be too hard. Then in 2008 a story wouldn't leave me alone. It literally kept me awake for three nights in a row. I typed out the first chapter just so I could get sleep! The next day I began to wonder what was going to happen in chapter two. I ended up writing my first book, Pride & Popularity, in six weeks just so I could finish it.
When did you feel ready to publish your stories, and how did you decide to approach that?
What challenges did you face in the publishing process?
My most memorable setback was the day my agent had Pride & Popularity going up for auction in late 2008, right around the time of the financial crisis. I had three publishers interested to buy the book when suddenly all three pulled out that morning. Everything was chaos. They told my agent to come back in six months.
When my book went up for auction again my agent went into preterm labor with her twins—three months early. She retired after that. By then I had done enough research to learn I wanted a little more freedom with my career than the big publishers would have given me. I queried a few small publishing houses. All of them were interested and I chose one and we went from there. The small publishers really helped me build a platform. Now that I have a following I can completely go on my own very easily, and I am now slowly buying back my works and republishing myself.
What else helped you stay motivated through the years?
I won't go into the sordid details but halfway through 2012 I suddenly found myself on food stamps for the first time in my life, living in my parents' home, with seven kids to provide for on my own. I hustled like I've never hustled before and wrote thirteen books the next year. I pushed through the grief, fear, and pain I was experiencing and eventually bought a minivan and the cottage and small farm I currently live in, all from the royalties of my writing. It is the greatest accomplishment I've achieved. Oh, and I found a handsome prince and married him too!
What's your approach to using Goodreads?
I love to read what others are saying about other authors in my genres on Goodreads. It keeps me on the pulse in what people are reading and what they love. I've also had great success with Goodreads Giveaways. Goodreads lets me advertise and put up books before they're written to drum up early interest. I've been able to connect not just with fans, but business professionals, conference committees, and school librarians and teachers. I also see a significant jump in sales every single time I review my own book with a message to my fans in the review. (
See an example here
.)
Any advice you can share with other self-published writers looking to follow your success?
Start a writing goal today. No more "If there's time…" Make time. If you'd like to quit your job one day and write books for a living, then you've got to meet your goals today. Even if it's just 500 words a day, it's a goal. It's a deadline, treat it as one.
You really need to be looking at ways to create a series as a fiction writer. Continue to build upon what is already there is the best way to get noticed. Don't expect sales until you've got that third book out. Use your free online resources. Goodreads is an amazing way to connect with readers and authors that you love.
Learn to love edits. Realize very early on that all you're doing is creating the cake. The rewrites and edits are the frosting that actually sells that cake. If you love them then you can whip through them easily, without the vicious pride factor taking over.
Learn how to query. You've got to be able to sell yourself and do it well, or no one will see your work. Query newspapers, magazines, conferences to get yourself on panels, query schools to do visits, query anything you can think of, but you've got to be able to write to professionals as a professional.
Librarians are your best friends and have all your friends, family, coworkers and contacts, who seem interested, request the book at your local library. If it's being requested, it's a great way for others to read the book and build a fanbase. That library might have you come and speak about writing too.
There is real money here, but you have to be in it for the long haul. You have to be constantly looking outside the box. Actually, remove the box completely. It's not worth it to pigeonhole yourself.
And last but not least, enjoy the ride. This journey is a thousand different experiences and emotions, but it's so rewarding as well. Your voice needs to be heard. Don't hold that back.
Got a question for Jenni James about her publishing career? Leave a question in the comments and the author will respond to them the week of April 9. Be sure to follow her on Goodreads to see all her updates.
Next: How to Approach Marketing to Actually Reach Readers - An AWP Panel
You might also like:
Marketing Advice from Self-Published Author Josiah Bancroft
Goodreads Authors can subscribe to the Monthly Author Newsletter by editing their
account settings.
Not a Goodreads Author yet? Learn about the Goodreads Author Program
here.
Comments
Showing 1-50 of 57
(57 new)
back to top