News and Interviews
Fantastic Books for Fantasy Fanatics
Posted by Cybil on November 13, 2017
Looking for a great book for someone who devoured
Game of Thrones
or who longs to return to the Shire? These books are guaranteed to please both the fantasy aficionado as well as the person who has yet to discover the greatness of the genre!
We asked debut author
Eames
to round up a dozen fantastical books to check off your holiday list this year:
"As someone who has spent a great deal of time and effort trying to 'convert' friends into fantasy readers, I consider myself something of an expert when it comes to curating lists of books guaranteed to impress. Below are a few that would make ideal gifts for old and new fantasy fans alike!" says Eames.
"Huge, epic, sprawling, sentimental. Check their bookshelf first because this will PROBABLY be on it. If you or anyone you know still hasn't started this series, get on it. If fantasy had a yearbook, this one would be grinning in its braces above this caption: 'Most likely to be the next
Game of Thrones
.'"
"Western meets fantasy, with a badass, take-no-crap-from-anyone female protagonist. Lots of humor with some beautifully poignant moments in there as well."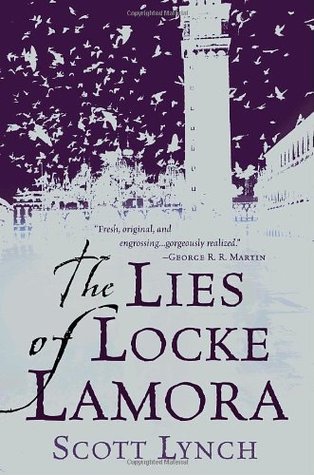 "One of the best debuts of all time. The tale of con men and thieves in a 'Venetian renaissance' setting. Fast-paced, hilarious, brilliant. It's first in a series, but it reads fine as a standalone."


"A fantastical twist on The Three Musketeers. Exceedingly witty and fun, with a wonderful cast of characters and incredible sword fights, written by a guy who really knows his stuff. A great beginning to a truly excellent series."


"Very accurately billed as The Hobbit meets Ocean's Eleven. A group of miscreants band together to pull elaborate heists on their evil dragon overlords. Things go badly for everyone involved. Action-packed and hilarious."


"Probably the best book I've read in the past few years. Baru is an accountant whose island nation is usurped by an overbearing empire. She resolves to bring them down from the inside. Intrigue (and devastating heartbreak) ensues!"


"Fast-paced, gritty, and brutal.
Blackwing
has swords, guns, magic, twisted monsters, evil sorcerers, and embittered mercenaries all fighting to survive on the edge of a wasteland called The Misery. If your reader has mentioned loving
Joe Abercrombie
, this is for them."
"Besides having a great title, this book is the beginning of an incredible series featuring a cast that is refreshingly diverse and not-at-all typical of many 'classic' fantasy tropes (the heroine of book two is a blind craftswoman). These books are intriguing, complex, and often socially relevant. Jemisin is prolific, too, so there's plenty more if you like what you read."


"A buddy-cop movie in a fantasy setting. Two unlikely partners team up to solve a mystery that threatens their entire city. Plenty of action, plenty of laughs, and a fair bit of mystery to boot."


"Expecting blood and battle and tons of killing? Look elsewhere because Age of Assassins is actually a beautifully told coming-of-age story cloaked in the vestments of a mystery novel. Complex characters and a deeply inventive world promise bright things for this series in the future!"


"Another of those 'if you haven't read this yet you will eventually' books. This story is fast-paced, clever, and all sorts of cool. A great one for 'fantasy skeptics'—it takes place throughout several alternate (and often sinister) versions of London, England."


Comments
Showing 1-46 of 46
(46 new)
date
newest »
back to top