Goodreads Blog
How The Late Show Got an Early Start on Goodreads
Posted by Greg on October 2, 2017
How The Late Show Got an Early Start on Goodreads
2,738 entrants, 597 Want-to-Read shelvings, 11 reviews, and 92 sales from one giveaway
About Goodreads Giveaways
Giveaways provide authors and publishers a powerful way to promote their books, raising awareness, increasing discoverability, and creating engagement through exciting contests that reward readers.
In this case study, we explore how Little Brown used a Kindle Ebook Giveaway to generate buzz and drive Want-to-Read shelvings, ratings, reviews, and early sales for Michael Connelly's The Late Show.
The Challenge
"We knew getting Goodreads members involved to help spread the word would be critical. Michael is a big author on Goodreads with nearly 14,000 followers, and we wanted readers to get excited about the book and share it with their friends. Plus, The Late Show is the first book in a new series, so it was important to get early reviews to generate momentum for the book. It was the end of June and the book was coming out mid-July — we chose a Kindle book giveaway because we knew it would be quick and easy to manage."
- Pamela Brown, Marketing Director, Little Brown
The Giveaway
8 days. 100 copies. 2,738 entrants. 597 new shelvers.

Pamela ran a 100-copy Kindle book giveaway from July 6-14th.
1,522 Goodreads members entered the giveaway on the first day. This jump out of the gate came from two things: First, Goodreads sent notifications to 4,911 members who already marked The Late Show marked as Want-to-Read to alert them to the giveaway. Second, Goodreads featured the giveaway in the newly-listed section of the Giveaways page — Goodreads' third most highly-trafficked page.
On top of the 4,911 Goodreads members who already had the book on their Want-to-Read shelf, 597 more people added it for the first time — all of whom get notified the day the book goes on sale.
The Results
100 winners. 92 sales. 11 reviews (so far).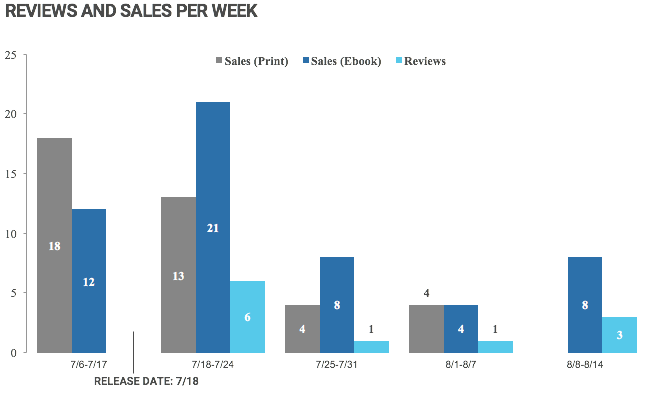 The giveaway ended on July 14th, awarding 100 copies to lucky readers. Interestingly, many entrants didn't wait for the giveaway to end – 44 entrants preordered the book on Amazon. Another sales spike followed after Goodreads notified entrants once book was on sale. In total, 92 of the 2.7k giveaway entrants bought the book between the giveaway's start and a month after its end.
The first review posted to Goodreads the day after the giveaway ended, and 25% of winners started the book within 4 days. In the first month after the giveaway, 11 winners wrote reviews on Goodreads. The number of reviews will grow even higher as more winners finish reading their newly-won copies.
My hope for the giveaway was to maximize shelving activity for the book and ensure we received a groundswell of positive, early reviews. We got all that — and more!"
- Pamela Brown, Marketing Director, Little Brown
Wrapping it Up
Start early. Leverage already-interested readers. Use ebooks to get scale and early reviews.
The Late Show giveaway performed exceptionally well in a small window before publication. It's a good idea to get buzz and reviews going as early as possible by scheduling a giveaway at least a month in advance - or as soon as the book is uploaded to the Kindle Store. We recommend running giveaways for 3-4 weeks to maximize reach.
Goodreads notifies members when there's a giveaway for a book they've marked as Want-to-Read. This puts the book top of mind for an already-interested audience, getting them excited for the giveaway, getting them to enter, and getting them to spread word of mouth.
Most print book giveaways run for 5-10 copies, generating a review or two typically a month (or later) after the giveaway ends. Use Kindle Ebook Giveaways to give up to 100 copies away to winners, increasing the likelihood of reviews and getting those reviews to fill up the book page sooner via instant delivery — all without increasing the logistical support required to run a large giveaway.
Next: It's baaaack: Prepare for Horror Week on Goodreads October 16 - 22
You might also like:
Five Tips for Running a Goodreads Giveaway
Goodreads Authors can subscribe to the Monthly Author Newsletter by editing their
account settings.
Comments
Showing 1-3 of 3
(3 new)
date
newest »
back to top