News and Interviews
The Season's Big Book-to-Screen Adaptations
Posted by Cybil on September 21, 2017
You all know how this works: An adaptation hits the movies or TV, and suddenly everyone is talking about it. But, my fellow readers, we know that you should always read the book first. With that (and your Want to Read shelf) in mind, here are some of the major adaptations headed to the big and small screens through the end of the year.
What can you expect? How about FBI agents hunting serial killers, a man surviving the aftermath of the Boston Marathon bombing, a new
Margaret Atwood
series on Netflix, and a star-studded
Murder on the Orient Express
?
Check out the list below. Which ones are you most excited about? And which books do you still need to catch up on?
SEPTEMBER
Stronger
September 22
Bostonian
Jeff Bauman
was cheering on his girlfriend at the finish line of the Boston Marathon when the 2013 bombing attacks occurred. His
memoir
recounts the aftermath of his ordeal. The movie version of the book stars Jake Gyllenhaal, Tatiana Maslany, and Miranda Richardson.
OCTOBER
Blade Runner 2049
October 6
The story is based on
Philip K. Dick
's classic sci-fi novel
Do Androids Dream of Electric Sheep?
(and a sequel to the classic movie, which is now 30 years old). A young blade runner (Ryan Gosling) discovers a secret that leads him to a former blade runner (Harrison Ford, who reprises his role as Rick Deckard).
The Mountain Between Us
October 6
Charles Martin
's story of two strangers who survive a plane crash together in the mountains and their struggle to survive stars Idris Elba, Kate Winslet, and Dermot Mulroney.
Mindhunter (Netflix)
October 13
David Fincher (of
House of Cards
fame) returns with his second Netflix show, which follows an FBI agent (played by Jonathan Groff) who develops crime-profiling techniques by interviewing serial killers. Be sure to read the true-crime story that inspired the show.
The Foreigner
October 13
The film is based on
Stephen Leather
's thriller
The Chinaman
, in which a businessman with a secret past seeks justice when his daughter is killed. It stars Jackie Chan, Pierce Brosnan, and Michael McElhatton.
The Snowman
October 20
From the international bestseller by
Jo Nesbø
, detective Harry Hole investigates the mysterious disappearance of a woman. The movie stars Michael Fassbender, Rebecca Ferguson, and Val Kilmer.
Wonderstruck
October 20
Based on the novel from
Brian Selznick
, the film features a young boy in the 1970s and a girl in the 1920s who seek the same mysterious connection. The movie stars Oakes Fegley, Julianne Moore, and Michelle Williams.
Same Kind of Different as Me
October 20
International art dealer Ron Hall befriends a homeless man to save his marriage in this movie adapted from the
book
of the same name. It stars Renée Zellweger, Jon Voight, and Djimon Hounsou.
Thank You for Your Service
October 27
Based on
David Finkel
's nonfiction account of a group of American soldiers serving in Baghdad and their hard homecomings, the movie stars Haley Bennett, Miles Teller, and Keisha Castle-Hughes.
NOVEMBER
Alias Grace (Netflix)
November 3
Margaret Atwood
's story is about a poor, young Irish domestic servant in Canada who, along with the stable hand, is imprisoned for the brutal murders of their employer and his housekeeper in 1843. The TV series stars Sarah Gadon, Edward Holcroft, and Zachary Levi.
Murder on the Orient Express
November 10
This
Agatha Christie
classic murder mystery, which follows detective Hercule Poirot's investigation of a wealthy American's death aboard the
Orient Express
, stars Johnny Depp, Michelle Pfeiffer, and Daisy Ridley.
Wonder
November 17
Based on the adored book by
R.J. Palacio
,
Wonder
is a heartwarming story of a young boy with a facial deformity who works to convince his new classmates that he's one of them. It stars
Room
's Jacob Tremblay, Owen Wilson, and Julia Roberts.
Call Me By Your Name
November 24
Based on
André Aciman
's book of the same name, this coming-of-age story is about a romance between a teen boy and his parent's summer guest. The movie stars Armie Hammer, Timothée Chalamet, and Michael Stuhlbarg.
DECEMBER
The Disaster Artist
December 8
This is the true story behind one of the worst movies ever made. It's based on
Greg Sestero
and
Tom Bissell
's account of the making of
The Room
and stars Alison Brie, Zac Efron, and James Franco.
Ferdinand
December 15
The animated adaptation of the children's classic—about a bull who would rather sit and smell flowers than fight—features the voices of Kate McKinnon, David Tennant, and Bobby Cannavale.
TBD in 2017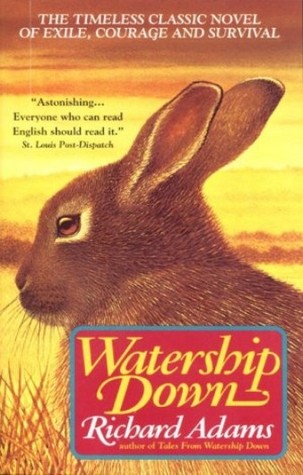 Watership Down (Netflix)
TBD
The BBC is partnering with Netflix on this new animated miniseries based on the beloved
Richard Adams
classic. It stars James McAvoy, John Boyega, and Ben Kingsley.
Check out more recent blogs:
The Best Young Adult Books of September
September's Hottest Books
Exclusive: Larry McMurtry on the Last of the Cowboys
Comments
Showing 1-50 of 55
(55 new)
back to top