Daniel Carpenter
Goodreads Author
Twitter
Member Since
May 2009
* Note: these are all the books on Goodreads for this author. To add more,
click here
.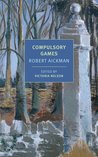 Book Fight!
— 282 members — last activity Nov 30, 2015 07:18PM
Welcome to the Goodreads home of the Book Fight podcast, the beer-fueled book discussion that gives tough love to literature. Mike Ingram and Tom McAl
...more
Literary Horror
— 707 members — last activity Sep 20, 2018 02:46PM
A group for fans of literary horror. We will be discussing all sorts of horror but leaning towards the literary.
No comments have been added yet.