Blythe E. Jewell
Goodreads Author
Born
in The United States
Website
Twitter
Genre
Member Since
July 2011
URL
https://www.goodreads.com/bejewell
* Note: these are all the books on Goodreads for this author. To add more,
click here
.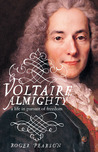 This is another one that my 10-year old son and I read together. Neither of us were particularly thrilled about it, and really we only read it because we didn't have anything else to start that night and it had been sitting on his bookshelf for month

...more

I read this together with my (almost) 10 year old son, and we both enjoyed it. It was a little old for him to read on his own - fairly dense, so he wouldn't be likely to stick with it, and the cursing didn't thrill Mom. But reading it together was a

...more

This was off to a rough start for me, felt really contrived and pretentious at the beginning, and I almost put it down. But then it broke through. And suddenly, I got it. And I felt that all the way to the end, in a way that's stuck with me days afte

...more

I know this makes super uncool, with all the glowing reviews and all... but I really just kind of hated this book.

At more than 700 pages it took me forever to get through, and every page was just so intensely detailed and long and drawn out that I al ...more
More of Blythe's books…
Topics Mentioning This Author
Funny not Slutty
— 10 members — last activity Jul 22, 2012 09:25AM
Book club for the columnists and viewers of funnynotslutty.com.
Pick Up Lane Bookclub
— 39 members — last activity Nov 14, 2014 02:23PM
Minivan Momma (Heather Davis) will be leading a monthly book club featuring books that will are appealing to mommas (and daddys) and can relieve the s
...more
No comments have been added yet.