Jesse Blayne
Goodreads Author
Website
Twitter
Genre
Member Since
July 2013
URL
https://www.goodreads.com/JesseBlayne
* Note: these are all the books on Goodreads for this author. To add more,
click here
.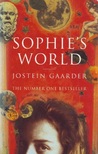 "According to Chekhov," Tamaru said, rising from his chair, "once a gun appears in a story, it has to be fired."
"Meaning what?"
"Meaning, don't bring unnecessary props into a story. If a pistol appears, it has to be fired at some point. Chekhov liked to write stories that did away with all useless ornamentation."
―
1Q84
No comments have been added yet.