Lisa Zhang Wharton
Goodreads Author
Website
Member Since
September 2007
* Note: these are all the books on Goodreads for this author. To add more,
click here
.
Lisa
is currently reading
Lisa
rated a book
liked it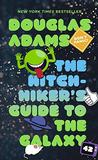 Lisa
is currently reading
Topics Mentioning This Author
Indie and Self-Pub Book Corner
— 956 members — last activity Jan 09, 2018 08:27AM
Why should major publishing houses determine everything we read? There are a lot of great stories out there, just waiting for readers to find them! Wr
...more
No comments have been added yet.