Website
Twitter
Genre
Daniel O'Malley
isn't a Goodreads Author (
yet
), but they do have a blog, so here are some recent posts imported from their feed.
Related News
Ready to see some of your favorite stories come to life? Hollywood producers, directors, and actors are continuing their obsession...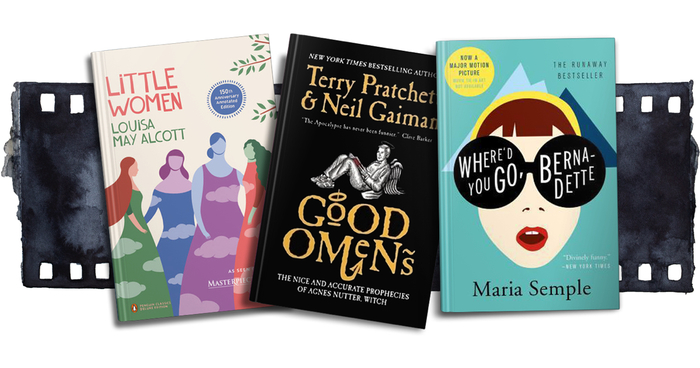 Polls
Please help Nothing but Reading Challenges pick the October ADULT Paranormal/Urban Fantasy/SciFi/Fantasy Book of the Month. Which of the following books should we read?
The Rook
by
Daniel O'Malley
Synopsis:
"The body you are wearing used to be mine." So begins the letter Myfanwy Thomas is holding when she awakes in a London park surrounded by bodies all wearing latex gloves. With no recollection of who she is, Myfanwy must follow the instructions her former self left behind to discover her identity and track down the agents who want to destroy her.
She soon learns that she is a Rook, a high-ranking member of a secret organization called the Chequy that battles the many supernatural forces at work in Britain. She also discovers that she possesses a rare, potentially deadly supernatural ability of her own.
In her quest to uncover which member of the Chequy betrayed her and why, Myfanwy encounters a person with four bodies, an aristocratic woman who can enter her dreams, a secret training facility where children are transformed into deadly fighters, and a conspiracy more vast than she ever could have imagined.
Filled with characters both fascinating and fantastical, THE ROOK is a richly inventive, suspenseful, and often wry thriller that marks an ambitious debut from a promising young writer.
On the Edge
by
Ilona Andrews
Synopsis:
Rose Drayton lives on the Edge, between the world of the Broken (where people drive cars, shop at Wal-Mart, and magic is a fairy tale) and the Weird (where blueblood aristocrats rule, changelings roam, and the strength of your magic can change your destiny). Only Edgers like Rose can easily travel from one world to the next, but they never truly belong in either.
Rose thought if she practiced her magic, she could build a better life for herself. But things didn't turn out how she planned, and now she works a minimum wage, off the books job in the Broken just to survive. Then Declan Camarine, a blueblood noble straight out of the deepest part of the Weird, comes into her life, determined to have her (and her power).
But when a terrible danger invades the Edge from the Weird, a flood of creatures hungry for magic, Declan and Rose must work together to destroy them—or they'll devour the Edge and everyone in it.
Kindling the Moon
by
Jenn Bennett
Synopsis:
Meet Arcadia Bell: bartender, renegade magician, fugitive from the law. . . .
Being the spawn of two infamous occultists (and alleged murderers) isn't easy, but freewheeling magician Arcadia "Cady" Bell knows how to make the best of a crummy situation. After hiding out for seven years, she's carved an incognito niche for herself slinging drinks at the demon-friendly Tambuku Tiki Lounge.
But she receives an ultimatum when unexpected surveillance footage of her notorious parents surfaces: either prove their innocence or surrender herself. Unfortunately, the only witness to the crimes was an elusive Æthyric demon, and Cady has no idea how to find it. She teams up with Lon Butler, an enigmatic demonologist with a special talent for sexual spells and an arcane library of priceless stolen grimoires. Their research soon escalates into a storm of conflict involving missing police evidence, the decadent Hellfire Club, a ruthless bounty hunter, and a powerful occult society that operates way outside the law. If Cady can't clear her family name soon, she'll be forced to sacrifice her own life . . . and no amount of running will save her this time.
Grimspace
by
Ann Aguirre
Synopsis:
By all accounts, Sirantha Jax should have burned out years ago…
As the carrier of a rare gene, Jax has the ability to jump ships through grimspace—a talent which cuts into her life expectancy, but makes her a highly prized navigator for the Corp. But then the ship she's navigating crash-lands, and she's accused of killing everyone on board. It's hard for Jax to defend herself: she has no memory of the crash.
Now imprisoned and the subject of a ruthless interrogation, Jax is on the verge of madness. Then a mysterious man breaks into her cell, offering her freedom—for a price. March needs Jax to help his small band of rogue fighters break the Corp monopoly on interstellar travel—and establish a new breed of jumper.
Jax is only good at one thing—grimspace—and it will eventually kill her. So she may as well have some fun in the meantime…
Gunmetal Magic
by
Ilona Andrews
Synopsis:
Some people have everything figured out — Andrea Nash is not one of those people. After being kicked out of the Order of Knights of Merciful Aid, Andrea's whole existence is in shambles. All she can do is try to put herself back together, something made easier by working for Cutting Edge, a small investigative firm owned by her best friend, Kate Daniels.
When several shapeshifters working for Raphael Medrano — the male alpha of Clan Bouda and Andrea's former lover — die unexpectedly at a dig site, Andrea is assigned to investigate ... and must work with Raphael. As her search for the killer leads her into the secret underbelly of supernatural Atlanta, Andrea knows that dealing with her feelings for Raphael might have to take a backseat to saving the world ...
Bloodshot
by
Cherie Priest
Synopsis:
VAMPIRE FOR HIRE
Raylene Pendle (AKA Cheshire Red), a vampire and world-renowned thief, doesn't usually hang with her own kind. She's too busy stealing priceless art and rare jewels. But when the infuriatingly charming Ian Stott asks for help, Raylene finds him impossible to resist—even though Ian doesn't want precious artifacts. He wants her to retrieve missing government files—documents that deal with the secret biological experiments that left Ian blind. What Raylene doesn't bargain for is a case that takes her from the wilds of Minneapolis to the mean streets of Atlanta. And with a psychotic, power-hungry scientist on her trail, a kick-ass drag queen on her side, and Men in Black popping up at the most inconvenient moments, the case proves to be one hell of a ride.
82 total votes
More...
Topics Mentioning This Author
Is this you?
Let us know.
If not, help out and
invite Daniel to Goodreads.