Born
in Chicago, Illinois, The United States
November 04, 1974
Website
Twitter
Genre
Polls
Select a book to read now and discuss in October. Please mark your calendar to follow-up rather than "vote and run". All here are either under $4 on Kindle or at the library; if interested in print you may want to check prices out first. Clicking a book is a vote (can be undone), use the cover links at the bottom of the page to research.

After a couple of days I may remove the option with the fewest votes in order to simplify. Happy voting! (Ends on Saturday.)


The Meek
by
J.D. Palmer
2017, 416 pp, 4.16 stars, $3.99 Kindle
"The world didn't end with a religious war, or a race war, or an economic collapse. It didn't end with everyone blowing each other up with nuclear warheads and it didn't end with a natural disaster. It didn't end because someone got offended in one of the million petty squabbles that were real, or fake, or imagined.
It ended quietly.
Harlan is visiting his friend in Los Angeles when people start dying. His friend, the neighbors, the entire city falls victim to an unknown disease. Except for Harlan.
Or so he thinks.
And he learns quickly that just because there are other survivors, not all are to be trusted. Finding himself in a world filled with broken spirits and hidden motives, he must navigate through a darkening landscape fraught with violence and despair as he desperately tries to get home to the love of his life, Jessica, and the child she is carrying. Morality becomes blurred as Harlan is forced to commit questionable acts to protect himself and those around him."
Sleeping Beauties
by
Stephen King
and
Owen King
2017, 702 pp (whoa), 3.76 stars, at library
Goodreads Choice 2017 Winner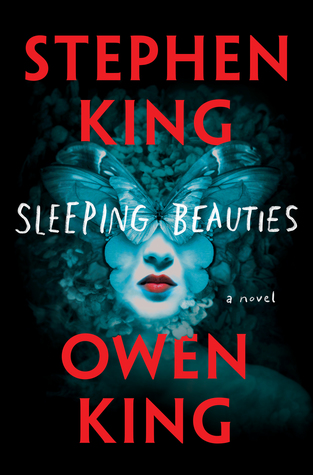 "In a future so real and near it might be now, something happens when women go to sleep; they become shrouded in a cocoon-like gauze.

If they are awakened, and the gauze wrapping their bodies is disturbed or violated, the women become feral and spectacularly violent; and while they sleep they go to another place.

The men of our world are abandoned, left to their increasingly primal devices. One woman, however, the mysterious Evie, is immune to the blessing or curse of the sleeping disease.

Is Evie a medical anomaly to be studied, or is she a demon who must be slain?"
The Testing
by
Joelle Charbonneau
2013, 325 pp (whoa), 4.05 stars, $3.99 Kindle
Goodreads Choice 2017 Winner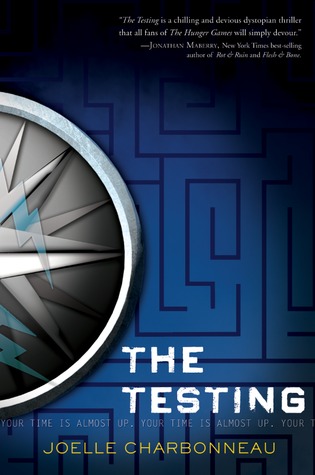 "Keep your friends close and your enemies closer. Isn't that what they say? But how close is too close when they may be one and the same?

The Seven Stages War left much of the planet a charred wasteland. The future belongs to the next generation's chosen few who must rebuild it. But to enter this elite group, candidates must first pass The Testing—their one chance at a college education and a rewarding career.

Cia Vale is honoured to be chosen as a Testing candidate; eager to prove her worthiness as a University student and future leader of the United Commonwealth. But on the eve of her departure, her father's advice hints at a darker side to her upcoming studies--trust no one.

But surely she can trust Tomas, her handsome childhood friend who offers an alliance? Tomas, who seems to care more about her with the passing of every gruelling (and deadly) day of the Testing.

To survive, Cia must choose: love without truth or life without trust."
An Ember in the Ashes
by
Sabaa Tahir
2016, 446 pp, 4.32 stars, should be at the library.
"Laia is a slave. Elias is a soldier. Neither is free.

Under the Martial Empire, defiance is met with death. Those who do not vow their blood and bodies to the Emperor risk the execution of their loved ones and the destruction of all they hold dear.

It is in this brutal world, inspired by ancient Rome, that Laia lives with her grandparents and older brother. The family ekes out an existence in the Empire's impoverished backstreets. They do not challenge the Empire. They've seen what happens to those who do.

But when Laia's brother is arrested for treason, Laia is forced to make a decision. In exchange for help from rebels who promise to rescue her brother, she will risk her life to spy for them from within the Empire's greatest military academy.

There, Laia meets Elias, the school's finest soldier—and secretly, its most unwilling. Elias wants only to be free of the tyranny he's being trained to enforce. He and Laia will soon realize that their destinies are intertwined—and that their choices will change the fate of the Empire itself."
Refuge
by
Judy Griffith Gill
2014, 187 pp, 4.33 stars, $2.99 Kindle
"Winter on Planet Storn is deadly for humans. They cannot withstand 370 days of dark and cold so must retreat to the freeze chambers in the sleep-ships on which they arrived. "Wintersleep" is mandatory for all. However, the Group, Ansel, Trinto, Doncer and others, dissidents who know a terrible truth dare not go into Wintersleep this season. If they do, they and the extraordinary children they are sworn to protect will not awaken come spring. In secret, they build a refuge where they hope to safely winter over with the youngsters whose lives will otherwise be forfeit to the great god of "Earthliness." No one knows for certain if Refuge, however carefully designed and constructed, will prove adequate against the storms even native animals are forced to escape. Worse, a greater danger may await. How can they be sure everyone claiming membership in the Group is trustworthy?"
More...
Topics Mentioning This Author
Is this you?
Let us know.
If not, help out and
invite Joelle to Goodreads.