Carrie Etter
Goodreads Author
Born
in Peoria, The United States
Website
Twitter
Genre
Member Since
August 2010
URL
https://www.goodreads.com/Carrie_Etter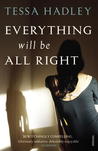 "He remembers which sister
I like least and asks
how she is doing.
(lines 9-11 of the poem 'Divorce')"
―
Carrie Etter
,
The Tethers
What's New at Lummox Press
— 51 members — last activity Jul 30, 2012 08:57AM
Keep up with new releases, readings and travels with RD Armstrong as he tries to make it as a micro-press in 21st century America. Lummox Press has be
...more
No comments have been added yet.