Simi Sunny
Goodreads Author
Born
in The United States
Twitter
Genre
Member Since
June 2013
Popular Answered Questions
* Note: these are all the books on Goodreads for this author. To add more,
click here
.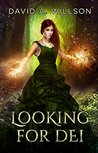 This is the first time I've read a book where the main character is crippled---in a fantasy story! And it really impressed me. Though, there was so much drama within, but I see it was worth it when it comes to character development. And you not only

...more

"

I wanted to write in my review as soon as I finished reading the book, but yesterday, I wasn't feeling too goo. Luckily, I managed to type up the revi

...more

"

This review has been hidden because it contains spoilers. To view it,

click here.

"

Bionic Jean wrote: "LOL Amber, I'm with G.J. and Simi on this one! When I go into a wood, I can suddenly breathe far easier. None of us would be able ...more

"
More of Simi's books…
Topics Mentioning This Author
date
newest »
back to top