Born
Chicago, Illinois, The United States
Genre
Polls
What would you like to discuss in April? (Read anytime before the 1st.) Please do not vote unless you plan to participate, to be fair to others. Happy voting! (Open until February 23rd.)
Monument 14 by Emmy Laybourne
2012, 3.9 stars, 304 pages
$7.80 Kindle, cheap print, may be at library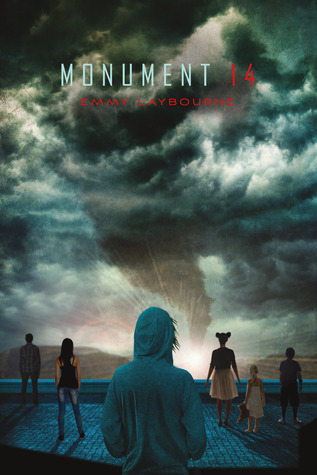 Click spoiler link for blurb.
"Your mother hollers that you're going to miss the bus. She can see it coming down the street. You don't stop and hug her and tell her you love her. You don't thank her for being a good, kind, patient mother. Of course not-you launch yourself down the stairs and make a run for the corner.

Only, if it's the last time you'll ever see your mother, you sort of start to wish you'd stopped and did those things. Maybe even missed the bus.

But the bus was barreling down our street, so I ran.

Fourteen kids. One superstore. A million things that go wrong.

"Laybourne's debut ably turns what could have been yet another post apocalyptic YA novel into a tense, claustrophobic, and fast-paced thriller." (Publishers Weekly)

When Dean raced out the door to catch the school bus, he didn't realize it would be the last time he'd ever see his mom. After a freak hailstorm sends the bus crashing into a superstore, Dean and a group of students of all ages are left to fend for themselves.
They soon realize the hailstorm and the crash are the least of their worries. After seeing a series of environmental and chemical disasters ravage the outside world, they realize they're trapped inside the store.
Unable to communicate with the ones they love, the group attempts to cobble together a new existence. As they struggle to survive, Dean and the others must decide which risk is greater: leaving… or staying.

Monument 14 is a post-apocalyptic YA novel that transcends age barriers. If you like heart-stopping suspense, realistic characters, and new takes on survival novels, then you'll love the first book in Emmy Laybourne's Monument 14 series."
Zone One by Colson Whitehead
2011, 4.17 stars, 259 pages
$11.99 Kindle, cheap print, may be at library
Click spoiler link for blurb.
"In this wry take on the post-apocalyptic horror novel, a pandemic has devastated the planet. The plague has sorted humanity into two types: the uninfected and the infected, the living and the living dead.

Now the plague is receding, and Americans are busy rebuild­ing civilization under orders from the provisional govern­ment based in Buffalo. Their top mission: the resettlement of Manhattan. Armed forces have successfully reclaimed the island south of Canal Street—aka Zone One—but pockets of plague-ridden squatters remain. While the army has eliminated the most dangerous of the infected, teams of civilian volunteers are tasked with clearing out a more innocuous variety—the "malfunctioning" stragglers, who exist in a catatonic state, transfixed by their former lives.

Mark Spitz is a member of one of the civilian teams work­ing in lower Manhattan. Alternating between flashbacks of Spitz's desperate fight for survival during the worst of the outbreak and his present narrative, the novel unfolds over three surreal days, as it depicts the mundane mission of straggler removal, the rigors of Post-Apocalyptic Stress Disorder, and the impossible job of coming to grips with the fallen world.

And then things start to go wrong.

Both spine chilling and playfully cerebral, Zone One bril­liantly subverts the genre's conventions and deconstructs the zombie myth for the twenty-first century."
Equations of Life by Simon Morden
2011, 3.85 stars, 400 pages
$7.99 Kindle, cheap used paperback, may be at library
Click spoiler link for blurb.
"Samuil Petrovitch is a survivor.

He survived the nuclear fallout in St. Petersburg and hid in the London Metrozone – the last city in England. He's lived this long because he's a man of rules and logic.

For example, getting involved = a bad idea.

But when he stumbles into a kidnapping in progress, he acts without even thinking. Before he can stop himself, he's saved the daughter of the most dangerous man in London.

And clearly saving the girl = getting involved.

Now, the equation of Petrovitch's life is looking increasingly complex.

Russian mobsters + Yakuza + something called the New Machine Jihad = one dead Petrovitch.

But Petrovitch has a plan – he always has a plan – he's just not sure it's a good one."
Blackfish City by Sam J. Miller
2018, 3.63 stars, 336 pages
$9.99 Kindle, paperbacks around $6 used, should be at library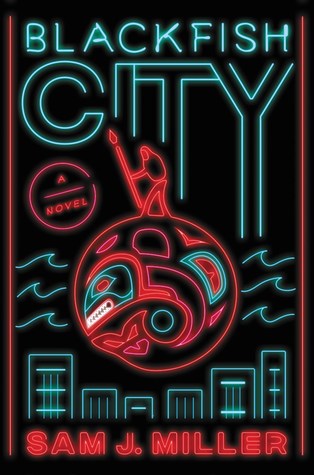 Click spoiler link for blurb.
"After the climate wars, a floating city is constructed in the Arctic Circle, a remarkable feat of mechanical and social engineering, complete with geothermal heating and sustainable energy. The city's denizens have become accustomed to a roughshod new way of living, however, the city is starting to fray along the edges—crime and corruption have set in, the contradictions of incredible wealth alongside direst poverty are spawning unrest, and a new disease called "the breaks" is ravaging the population.

When a strange new visitor arrives—a woman riding an orca, with a polar bear at her side—the city is entranced. The "orcamancer," as she's known, very subtly brings together four people—each living on the periphery—to stage unprecedented acts of resistance. By banding together to save their city before it crumbles under the weight of its own decay, they will learn shocking truths about themselves.

Blackfish City is a remarkably urgent—and ultimately very hopeful—novel about political corruption, organized crime, technology run amok, the consequences of climate change, gender identity, and the unifying power of human connection."
Emergence by David R. Palmer
1984, 4.17 stars, 291 pages
$5.99 Kindle, cheap print, probably not at library (?)
Click spoiler link for blurb.
"Candidia Maria Smith-Foster, an eleven-year-old girl, is unaware that she's a Homo post hominem, mankind's next evolutionary step.

With international relations rapidly deteriorating, Candy's father, publicly a small-town pathologist but secretly a government biowarfare expert, is called to Washington. Candy remains at home.

The following day a worldwide attack, featuring a bionuclear plague, wipes out virtually all of humanity (i.e., Homo sapiens). With her pet bird Terry, she survives the attack in the shelter beneath their house. Emerging three months later, she learns of her genetic heritage and sets off to search for others of her kind."
More...
Topics Mentioning This Author
topics
posts
views
last activity
Apocalypse Whenever: Recommended Smart ADULT Action/Post-Apoclyptic or Apocolyptic Novels
25
148
Aug 05, 2014 08:52AM
What's the Name o...: SOLVED. Science Fiction book where the protagonist learns the ability to control the cells in his body, and thereby reshape his body. [s]
4
56
Sep 12, 2014 10:38AM
Books on the Nigh...: Bingo cards 2016
49
344
Jul 02, 2016 09:05PM
WACKY READING CHA...: March 2018 Mini Challenge
134
77
Jun 15, 2018 05:06AM
The Evolution of ...: Nominations for August 2018
31
38
Jul 01, 2018 02:56PM
Apocalypse Whenever: APRIL BOOK NOMINATIONS (closed)
34
133
Feb 13, 2019 08:29AM
The Evolution of ...:

*

Jim's SF &/or Influential Authors List
29
37
Mar 06, 2019 07:54AM
The Evolution of ...:

*

What This Folder Is For...
13
37
Mar 07, 2019 07:21AM
The Evolution of ...:

*

What This Folder Is For...
13
51
Mar 07, 2019 07:31AM
Is this you?
Let us know.
If not, help out and
invite David to Goodreads.