Kristen Kieffer
Goodreads Author
Born
in The United States
Website
Twitter
Genre
Member Since
September 2014
URL
https://www.goodreads.com/kristen_kieffer
* Note: these are all the books on Goodreads for this author. To add more,
click here
.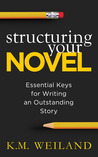 I won't pretend I understand even half of what I just read, but how I love Carlo Rovelli for making some of science's most complex and misunderstood topics as approachable as possible for the everyperson.

This book wasn't a typical read for me, but I did enjoy it. Saunders provides such a beautiful look at life and death and grief, even if the wacky format did throw me off from time to time. I don't know if I would have enjoyed this book as much, howe

...more

Actual Rating: 4.5 / 5 stars

Update: Never in my life have I immediately re-read a book after finishing it, yet despite just how much I enjoyed CMBYN the first time, I felt I read too quickly to give Aciman's exquisite prose the attention it deserved. ...more

Actual Rating: 3.5 / 5 stars

I haven't yet done much feminist reading, so it may not hold much sway to say this is the best book I've read thus far on the topic. That said, I agree with Gay's opinion that the modern feminist movement is both incredibl ...more

I am an empty, aching chasm. Completely done in. This book is one of rare and poignant beauty, and I know it will stay with me for years to come.

Actual Rating: 3.5 / 5 stars!

I have a confession to make: I haven't read many novellas in my time. That's one reason I was especially excited to dive into this story written by a dear online friend.

Firstly, let it be said that if you are fan of Sara ...more

I said I'd read anything and everything V.E. Schwab writes, and I wasn't kidding. This was her debut, and it definitely feels like a debut, which is something I honestly appreciate as a writer? It gives me hope, I suppose.

But in any case, I loved th ...more

Actual Rating: 2.5 / 5 stars

I chose this as my second go at graphic novels after I tore through SAGA in April. This first issue, though beautiful, kind of left me bored. I probably would have read the second issue to see if the story picked up, but i ...more
More of Kristen's books…
"If your hero's backstory is more interesting than their present story, you're writing the wrong book."
―
Kristen Kieffer
Writing Warriors and Bloggers
— 4 members — last activity Aug 20, 2016 08:37AM
I have been searching and digging to find a group dedicated to writers (and more specifically, writing bloggers) to both share their work and posts as
...more
No comments have been added yet.