M.A. Phipps
Goodreads Author
Born
in The United States
Website
Twitter
Genre
Member Since
March 2015
URL
https://www.goodreads.com/authormaphipps
Popular Answered Questions
* Note: these are all the books on Goodreads for this author. To add more,
click here
.
M.A. Phipps hasn't written any blog posts yet.
Polls
Which book would you like to read in November to discuss in December?
A VOTE IS A COMMITMENT TO READ if your selection wins, please do not vote unless you will return to discuss the book later.
The Fifth Season
by
N.K. Jemisin
2015, 468 pages, 4.32 stars
$9.99 Kindle, cheap used paperback, is in libraries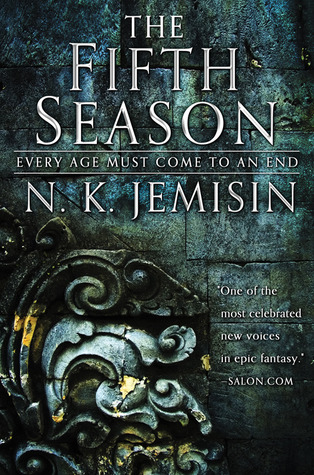 "THIS IS THE WAY THE WORLD ENDS... FOR THE LAST TIME.
A season of endings has begun.
It starts with the great red rift across the heart of the world's sole continent, spewing ash that blots out the sun.
It starts with death, with a murdered son and a missing daughter.
It starts with betrayal, and long dormant wounds rising up to fester.
This is the Stillness, a land long familiar with catastrophe, where the power of the earth is wielded as a weapon. And where there is no mercy."
The Fireman
by
Joe Hill
2017, 768 pages, 3.94 stars (NOTE the length)
$12.99 Kindle, cheap used print, is in libraries
"The fireman is coming. Stay cool.

No one knows exactly when it began or where it originated. A terrifying new plague is spreading like wildfire across the country, striking cities one by one. The doctors call it Draco Incendia Trychophyton. To everyone else it's Dragonscale, a highly contagious, deadly spore that marks its hosts with beautiful black and gold marks across their bodies—before causing them to burst into flames. There is no antidote. No one is safe."
See book page for full blurb
Ultraxenopia
by
M.A. Phipps
2017,332 pages, 4.24 stars
$2.99 Kindle right, $8.99 paperback
"Don't stand out. Blend in. Remain invisible. Those are the rules I lived by - the rules I thought would keep me alive.

I was wrong.

Wynter Reeves is a law-abiding citizen of the State, a willing conformist whose life is haunted by terrorism and oppression. With the threat of death hanging over her like a shadow, she forces herself to live by a strict set of rules, in the hope of ensuring she is never noticed. However, on her 21st birthday, as she prepares to take the exam that will determine her future within society, she begins to show symptoms of a rare and debilitating illness - attracting the attention of the State. Taken into the custody of the feared research facility known as the DSD, her worst nightmare becomes reality.

Ripped away from the life she knew, Wynter is forced to become the test subject of the mysterious Dr. Richter. Through him, she learns the true and terrifying nature of her condition: a disease called Ultraxenopia."
More...
Topics Mentioning This Author
No comments have been added yet.