Kailynn Jones
Goodreads Author
Born
The United States
Website
Twitter
Member Since
January 2015
* Note: these are all the books on Goodreads for this author. To add more,
click here
.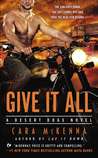 "Trust in me. Okay? Take my hands and look into my eyes." "Isn't that what Kaa says right before he tries to eat Mowgli?" She asked, taking his hands. "I'm more the Bagheera type. I protect."
―
Kailynn Jones
,
Isolde's Fire
No comments have been added yet.