The Fault in Our Stars
by
John Green
(Goodreads Author)
Christina
's review
bookshelves:
2013
,
book-turned-movie
,
college
,
cover-lust
,
family-issues
,
own
,
proper-use-of-endleaves
,
psychology
,
review
,
romance
,
stand-alone
,
thought-provoking
,
tragedy
,
young-adult
,
book-hangover
,
crush-worthy-boys
,
favorites
,
reread-worthy
,
top-picks
Read from August 03 to 04, 2013
For the love of god, I can't decide if this book is brilliant or just suckering me!
It's a cancer book so of course you know going in that
the Fault in Our Stars
is going to be one gigantic crying cocktail, a sorrow soiree, a pity prom, a tea of tears, a sadness shindig, a... okay, I'm out of alliterations.
THEY WEREN'T THAT BAD!
The Fault in Our Stars
is a polarizing "team" book, and by that I mean that I almost wish I had never read the stupid thing in the first place so I didn't have to choose a side.
Team #1: The Green Nerdfighters
Team #2: The Green Hateraders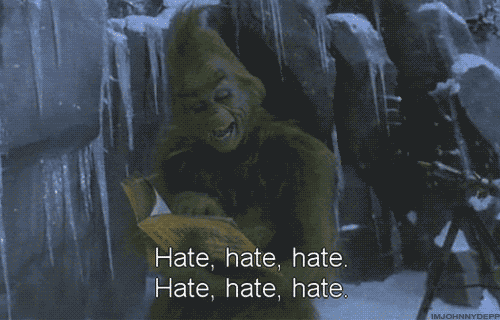 (Under the circumstances, I think the Hateraders have as much claim to the color green as the Nerdfighters. I'm being fair here. Besides, it reduces casualties in battle without color as a dead giveaway for who is and is not on your team.)
There are no other choices. Prospective readers beware! If one of your friends suddenly pulls out their copy of tFiOS and does this:
1.
Smell that book, too. I mean, why would you pass up a perfectly good opportunity to smell a book?
2.
Refer to this guy:
You can never,
never,
unread this book and can therefore never step out of this fight which will also never end. That's a lot of "nevers." It is forever in your memory and now you have no choice but to choose a side. And, regardless of which team you choose, god help you if you find yourself behind enemy lines.
Always use the buddy system when traveling.
So now's the time we've all been waiting for. Now is when I damn myself to one side or another, and my choice is... neither! Yep, people. Plot twist! I choose neither. I am not in completely in love with this book nor do I hate it and wish it death. I'm forming my own team:
Team #3: The Blue Hadouken Fence Sitters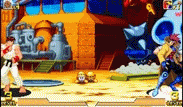 The hadouken has been proven most effective in defending against both Nerdfighters and Hateraders.
The thing is, what I loved about this book also made me a little critical. I am not a realistic fiction person. They are rarities for me, and the the few I have indulged in have been, shall we say, underwhelming (
The Perks of Being a Wallflower
= a ginormous disappointment. Yes, I'm one of
those
people.). I often find them boring, not nearly as quotable as people claimed they would be, and just generally overrated.
The Fault in Our Stars
was the exception. Honestly, you could probably open the thing to a random page and find at least one quotable line. The writing is beautiful, even those who hate it will admit that. Because that's often their main complaint.
Hazel and Augustus are very fantasical teenagers in the way that no sixteen or seventeen-year-olds speak in near poetic soliloquies or share a love so pure it is worthy only of a couple celebrating their golden anniversary. It just doesn't happen.
But that's also part of why I liked it. It reminded me of the days when romantic comedies were actually romantic and not just comedies (and even that's debatable). The days of Nora Ephron and Nia Vardalos when the story was obviously unrealistic and over the top but it was sweet and touching so who the hell cares! Let's admit it. Romance in real life is
so
not as wonderfully poetic as romance in fiction for obvious reasons: all the boring parts are cut out and people always seem to know just what to say at just the right time. So, no, the sappiness and ridiculously quotable dialogue did not bother me in the least.
Then there's the whole "this is a book about cancer and engineered to make you cry" thing that some are in an uproar about. I'm not sure whether or not I feel emotionally manipulated or whether I
can
feel that way without becoming a hypocrite.
All stories manipulate emotion. Do you think the fact that Jack dies at the end of
Titanic
happened by accident?
What about horror? Or "feel good" movies? We enjoy narratives precisely because they prey upon our emotions so fiercely. It's generally when a writer pens something dealing with a serious issue like terminal illness that we get bunged up about it.
I believe this call comes down to individual preference. Some may think that John Green and other realistic fiction writers like him are using cheap tricks to make their readers tear. Personally, I do agree that John Green gets a bit carried away at times, but that's the nature of the genre. Take it or leave it.
So, like I said earlier, I am not a Nerfighter or a Haterader. I'm a Fence Sitter so don't make me hadouken you!
I enjoyed this book, make no mistake about that. It's similar to the way that I deeply enjoyed the
Harry Potter
series, but it was just never something I could fangirl about despite growing up during the mania. Blame it on a childhood filled with these guys.
As for prospective readers, remember you take your life in your own hands if you finally decide to crack tFiOS. Get in, get out, choose your side (hadouken lessons are available!), and then treat it like politics and religion. Don't bring it up, and if someone does, don't express anything more than a neutral comment or else.
You've been warned.
Sign into Goodreads to see if any of your friends have read The Fault in Our Stars.
Sign In »
(showing 1-1 of 1)
(1 new)
date
newest »
back to top