Confessions of an Angry Girl (Confessions, #1)
by
Louise Rozett
(Goodreads Author)
ARC supplied by NetGalley and Harlequin in exchange for a honest review.
I had high hopes for CONFESSIONS OF AN ANGRY GIRL when I started, I really did. The premise was interesting, the cover was gorgeous, and at the time (technically, still) I was also angry. I wanted to see how another pissed-off bitch handled it.
CONFESSIONS OF AN ANGRY GIRL takes you through the life of Rose Zarelli, a fourteen year-old who's had everything taken away: her father's life, her mother's will, her brother's caring, and her friend's old personality. Enter Jaime Forta, the older guy who's dating cheerleader Regina (who's even more wicked than MEAN GIRL'S Regina George), who kissed Rose. Regina's mission: make Rose's life a living hell.
Slut-shaming is wrong - just because a girl wears shorts and boots and accents her boobs doesn't mean she's a cheap whore; it means she's self confident and that's a great thing. It doesn't mean she's a 'whore', period.
However, I also believe there is a fine line between a revealing outfit, and dancing in a mini-skirt with only your bra on a cold night at fourteen, in front of a bunch of horny teenage boys who'd have sex with a girl (and I wouldn't put them past date rape) and then immediately start treating her like crap.
Rose is a horrible heroine, if you can even call her that. She complains about everything.
Everything.
If she was truly livid, she'd scream at Tracy until the stupid bitch thought about what she was doing, she'd slap Jaime, she'd go after Regina
waaaaayyy
before she did, and we should be able to sense her fury. She wasn't
angry
like I expected. She was pretty much normal until the ending, when she snapped. Rose didn't have fun once - she didn't even try to act like she wasn't a bitter sixty-year old.
Rose was put in sticky situations, but the way she handled them didn't help her case. I felt for her, truly. Her life was chaotic and she had to deal with Tracy, her 'best friend'. But I just couldn't deal with her character. She didn't have to be such a boring party-pooper for everything.
CONFESSIONS OF A BITCHY GIRL
was what it should have been called. After a while, it was just like: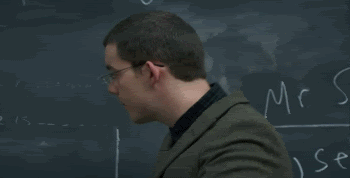 Jaime. Jaime, oh Jaime. I don't understand why Rose was so infatuated with him, or him with her. This guy was not interesting. Okay, so he's older and he's hot. Also, he has a troubled past (haven't you noticed that's the new YA requirement?) and he's dating a cheerleader.
Speaking of cheerleaders, Regina, his girlfriend, is not your typical bitchy cheerleader found in YA novels. Actually, she is.... but worse. Regina scared me half to death, but it's true that not all cheerleaders are horrible. I mean, honestly. What is it with all these demoness cheerleaders?! They're cute girls who wave pom-poms. They're not a special species of evil.
Regina, tormenting anyone she didn't like, resembles
PRETTY LITTLE LIARS's
Alison diLaurentis more than anything. She's twisted and cruel, and I wouldn't want to encounter her... ever.
Tracy is one of the worst friends I have ever encountered. I'm sorry, but if I was Rose, I couldn't have survived with her as a friend. She's the girl trying to fit in with the popular crowd, even if it means betraying her 'best friend' and doing so many wrong things I lost count. Tracy dates a fucking asshole, kisses up to the cheerleading squad, and
completely ignores Rose and her advice
. All Rose tries to do is help her, and Tracy just brushes her off and regrets it later. Tracy's very ME ME ME ME ME. She could've sacrificed herself at the end of the book to save their friendship and I still wouldn't have forgiven her. The things that she did can't be.
CONFESSIONS OF AN ANGRY GIRL is full of girls discovering the teenage world of sex, guys, alcohol, kegs, police, fake IDs, and all-around evil people. Also, gynecology and-
TMI, And I don't mean
THE MORTAL INSTRUMENTS
.
A little bit of what saved this book is Rozett's clear writing, which could have been better if Rose was actually intelligent and fun. I also found myself wanting to read more and more of CoaAG, even if I hated it.
In the end, it was a 'meh' book for me. Perhaps I'll read the next one. I don't know yet.
Sign into Goodreads to see if any of your friends have read Confessions of an Angry Girl.
Sign In »
08/17/2012
page 25
9.0%
"...because how did we know what love was in elementary school?

"
08/17/2012
page 26
10.0%
"I am so confused right now. Wait, how did she meet Jamie again? I thought she was a freshman. Or did she know him via her older brother?"
08/17/2012
page 27
10.0%
"My character's brother died like that too."
08/18/2012
page 28
10.0%
"Rose doesn't seem very angry. She seems bitchy and annoying, that's what." 3 comments
08/18/2012
page 30
11.0%
"I think I'm not going to enjoy this book. *headdesk* Whyyyy, universe, why?"
08/22/2012
page 57
21.0%
""I don't think we should still have cheerleaders that prance around in short skirts repeating stupid rhymes, flashing their underwear to cheer on boys without doing so much as a cartwheel. It's the twenty-first century - shouldn't we be more evolved than this?"

Horny teenage boys won't evolve, sweetie."
08/23/2012
page 31
11.0%
"He was listening to Coldplay and I assumed he just wanted to dissect the album and explain why he thought Chris Martin was such a hack.

" 3 comments
08/25/2012
page 100
37.0%
"*poker face*"
08/29/2012
page 188
69.0%
"I have like a hundred more pages to go. Ugh. I'm going to try to finish 50 pages tonight." 1 comment
01/29/2016
marked as:
read
(showing 1-30 of 30)
(30 new)
date
newest »
back to top