Madly & the Jackal (Madly, #3)
by
M. Leighton
(Goodreads Author)
My emotions. I can't handle it!
First I was all
This is beautiful.
Giggle giggle..
Then. Horrible things.
(view spoiler)
[and spiked Mountain Dew, what? (hide spoiler)]
THEN.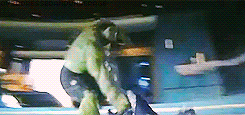 ANGER. So much anger. Katy SMASH!!!
So many feelings. And I stupid read these before all the books are out. Horrid!
(sorry guys, just getting with the gif program...prepare for gif overload)
Anyways... I like the Madly series a lot. More than I expected. She is a mermaid princess, Jackson is her Sentinel guard
(view spoiler)
[and HUSBAND (hide spoiler)]
and a beautiful piece of man. Haha. Ahem excuse me. In this story they have to recapture two "Lore", the Jackal and Hyde. It's just a stressful time. It did end on a semi- high note though. Seriously though.. When is the next one out??["br"]>["br"]>["br"]>["br"]>["br"]>["br"]>["br"]>["br"]>["br"]>["br"]>["br"]>["br"]>["br"]>["br"]>["br"]>["br"]>["br"]>["br"]>["br"]>["br"]>
Sign into Goodreads to see if any of your friends have read Madly & the Jackal.
Sign In »
No comments have been added yet.