The Stone Door
by
Leonora Carrington
All stories are true.
Chronological, linear time is an invention, a convenience. History is simultaneous and instantaneous. Events
unfold
exist in parallel at every era and culminate in an event outside of perceived history itself, at a point existing exactly
next to
our idea of the progression of time. At this point, the divided male and female impulses of the universe are united, and the existing order will be overturned. All that is known will be destroyed. In destruction, only in destruction, renewal.
"Sweet chaos, [...] and out of the chaos a new chaotic order never before dreamed by man."
Seemingly distilled from centuries of gnostic, alchemical, and occult theory and tempered in the fires of lived experience,
The Stone Door
reads like the potent merging of fairy tale and heretical hermetic codex. It has the power and conviction of myth, the portentous personal imagery of surrealism, and a diamond-pure conceptual heart, flecked with incantatory insight and philosophical depth. It is an anarchic statement of refusal and the guide-stones of escape.
Leonora Carrington is the finest surrealist writer I know of, wise and iconoclastic and mordantly funny, and this is her best book. I don't generally hold to a lot of occult theology and whatnot, but here she's assembled something strange and personal and momentous from these esoteric materials. And despite its significance, this has the deft narrative elegance of storytelling in its purest forms (myths, fairytales -- which have always been significant, after all). It is uncanny, gripping, perfect.
Previously, I'd only read this in a shortened novella form that Carrington prepared in 1988 for publication in
The Seventh Horse And Other Tales
, but this, finally, is the complete original, unpublished since '77, with an additional fifty pages*. Perhaps Carrington viewed these bits as inessential later, but as a curious (obsessed) reader, they're an incredible addition. The truncated version maintains the obscure gestalt of the story, but the original allows far more development, a much more complete picture.
Context: in 1940 or so, while in Spain attempting to secure asylum for Max Ernst as the Nazis swept into France, Carrington suffered a breakdown that resulted in
some months at a psychiatric hospital
. As she was discharged, her family dispatched a servant to retrieve her to England, but instead she slipped away to America via the Mexican embassy in Lisbon. After some time in New York City and the expat surrealist scene there (Breton was there at the time), she completed her original arrangement, which involved moving to Mexico and marriage to ambassador, poet, and friend of Picasso's, Renato Leduc. Then, adrift in an unfamiliar country in the mid 1940s, she wrote her first novel.
She's here in the pages, bored and and despairing in a stifling marriage in Mexico city. It seems like the bits of journal here, even with their symbolic and arcane asides, are probably a relatively accurate impression of sensations and conditions under which this novel was composed.
For centuries, they dressed up love for easy digestion as a fat little boy with wings, pale blue bows, and anemic-looking flowers. behind this bland decoration Love snarled its rictus through the ages. With shrieks of adoration, it flung itself on human breasts, "to crush you, to suck your life away. I cannot drag my own weight over the crust of the earth, so you must carry me on your back so that in time you will be crippled with my weight." These words are in every heart in the mating season.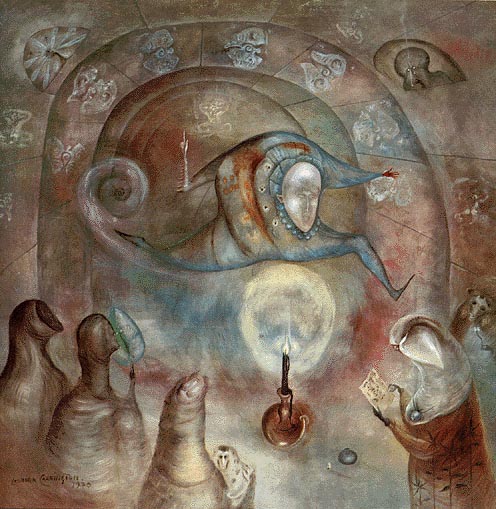 Within the novel, though, the seeker's desperation leads her not to write, but much further afield, into the secret trajectories along which the universe is arranged, and by which it may be broken. In particular, we're first introduced to a certain house out of time, in which a trio of scientist-mystics have entered into a conflict whose ripples will organize much of the rest of the story. These ripples radiate in all directions, striking in and out of the entire panorama of history.
I alluded to this idea of non-linear time before, which informs not only the plot, but the elegant structure of the book, as events brush against eachother across ages and vast distances to push the action cohesively to its climax. This aspect, handled in a completely unique manner to anything else I've encountered, was one of the most notable reductions in the novella version: the novella is the story of two timelines rushing to meet eachother in a third, whereas the novel gives a sensation of a much denser network of interconnections.
Sometimes, when you search for something and finally find it, it is disappointment in light of the search. This book is not such a case. Instead, it is a fulfillment of every potential.
*The novella is about 68 pages, this is 118. Even considering that the type is slightly larger here, there's at least 50% more story that had been cut, with new episodes, characters, expansion of motifs.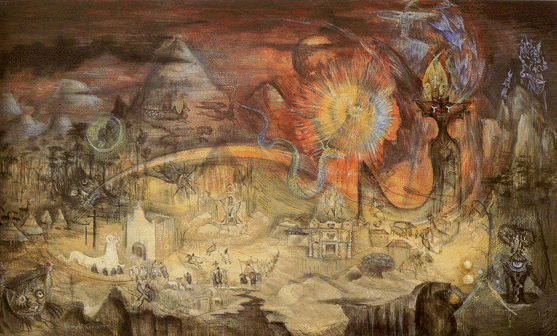 (re-read January 2013: some details are clarified, others cast into new doubt. Always a favorite. I've also been looking up all the references I can run down, particularly dense in the diary sections, if anyone is curious.)
Sign into Goodreads to see if any of your friends have read The Stone Door.
sign in »
(showing 1-13 of 13)
(13 new)
date
newest »
back to top