Twilight (Twilight, #1)
by
Stephenie Meyer
ATTENTION
Pictures have been fixed, hopefully for forever.
Right. This is going to be totally tongue-in-cheek, or at least mostly, because I don't feel like saying what's already been said about this book. If you want to know how I feel about the technical/storytelling aspects of this book, go read any of the numerous articulate, well-written one-star reviews. The one thing I will say is: I still like Alice. She was my favorite character when I liked the books and the only one I consider worth the while now. Pity the book isn't about her. Jasper is okay, but not as interesting or fun as she is.
Anyhow.
The point.
TEN REASONS THE ELEVENTH DOCTOR IS HOTTER THAN EDWARD CULLEN
Setting aside, for the most part, the obvious fact of physical hotness of actors.
Because really, this:
[image error]
cannot hope to compete with this:
Ever.
Okay, okay, minor fangirling episode aside, the actual list. Oh yes. Illustrated as much as I could manage, but some things just aren't possible.
10. Eating fish custard is much cooler than drinking blood.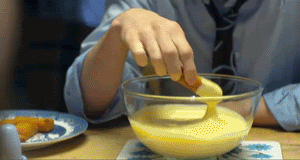 Here's the thing: vampires are old hat now. And by 'now' I don't just mean in the wake of the craze Twilight itself created. I mean that there was already an adult PNR before this book even came along. Vampires, drinking blood, all that stuff - been there, seen that, and seen it better. Now, Timelords are a different thing. While Who is the second longest-running TV show
in the world
, it never gets dull. (I choose to ignore Love and Monsters for purposes of this review.) Vampires, no matter how many 'new takes' you have on them, do. Heaven knows I roll my eyes a bit now, and I've read a lot of different ideas about them. I would have liked this book ever so much more if Edward and his family had been some sort of original creature. Also, that would have required more work of Ms. Meyer, and more work might have produced a better final work.
Also, fish sticks and custard are much tastier than blood. Just sayin'.
9. Eleven looks amazing with a bow tie.
(Don't deny it, he does.)
The real point of this is: the Doctor actually acts like an old-fashioned gentleman. In every sense of the word. Sure, Edward holds car doors for Bella. But he still invades her privacy and watches her sleep, and he still takes advantage of her hormones. The Doctor, on the other hand, has class. He is infallibly polite, except to his enemies, and let's be honest: would you be polite to xeoncidal alien races? Thought not. He doesn't invade his companions' privacy. He doesn't take advantage of Amy's hormones, even when she makes it reeeeeally easy. And sure, some of that is because he's awkward around women. Some of it, though, is because he's been around long enough to learn some goddamn manners. Edward could do with a few lessons.
8. He has mad dance moves.
And he's not afraid to show it. My point here is that Eleven has a genuine
personality
. He has interests that don't relate to the females in his life. He has his own goals unrelated to them; he doesn't dote on them (though he does care for them); he isn't full of happy coincidental interests. Inasmuch as Bella has interests, Edward shares them. The rest of his time and mind power is pretty much spent on her. Excuse me while I gag - okay, all better.
Also, Edward doesn't seem to me like he knows how to have fun. Seriously.
7. He's Space Gandalf.
This goes back to the personality thing, and also the not getting boring thing. I mean, how could Edward describe himself? He calls himself a monster a few times - wonderful, very sexy, loving the self-hate - and he's popularly called a sparklepire. Now, let's look into these. Space Gandalf pretty much tells you everything you need to know about the Doctor: very, very old, very wise, very powerful, kind and self-sacrificing, and more concerned with the big picture. What do we learn from the world 'sparklepire'? Well, that he sparkles... and he's a vampire. The 'monster' thing tells us he's emo.
Bottom line being: the Doctor is much more interesting than Edward. Much, much, much, much more.
6. He has a much cooler ride.
Do you know what that little thing in the left corner is? It's the
U.S.S. Enterprise
. Remember how huge that ship is? Yeah, it's drawn next to the full TARDIS structure to scale.
I'd take that over a silver Volvo any day.
5. He'd rather travel space and time than watch sappy movies.
Edward makes most of his goal in life to 'keep Bella safe'. And he does so by not letting her really live it up. The Doctor, on the other hand, owns up to the fact that his life is dangerous - and then offers to take people with him anyway, because he has faith in their personal strength. Edward treats Bella like a hapless child. The Doctor, to whom the entire human race can be rather childlike, treats his companions like adults. He doesn't assume the worst of them, but the best. He is a positive force, whereas Edward uses his supposed fear of Bella getting hurt to keep her where he wants her - and acts as a source of negativity in that way.
4. He defeats his enemies with words alone.
For this I have not a picture, but a video:
here
.
Edward has to use physical force to tear his opponents apart, and then he has to set them on fire. All the Doctor has to do is talk them down. Is there any question who's more badass here? Because if there is, newsflash: true badassery comes not from being the most violent or physically forceful thing around, but from being so determined and unstoppable that no one even wants to engage you in a fight in the first place.
3. He is clearly better at attracting women.
This:
or this?
First off, Amy is hotter than Bella could ever be. But that's not all. Bella, as I kinda mentioned above, has little to no personality. She hates Forks. She likes Jane Austen. She's apparently smart, though she doesn't act that way. She mothers her own father, and she's SO IN LOVE with Edward. Amy? Amy is curious even as a young girl. She has a sense of wonder. She is tenacious - just ask those four psychiatrists who tried to tell her the 'Raggedy Doctor' wasn't real. She has a powerful, persuasive personality. She loves Rory, and she makes it clear that she doesn't want to live without him, but not everything in her life is about him. Most of all, she saves the Doctor and herself several times. Locked up by aliens? Pick locks and break the hell out. Good friend about to walk the plank into shark-infested waters? Grab a cutlass and save his life. And yeah, she doesn't always make the right choices, but at least she does things. Partly, Bella's problem with not doing jack comes from the fact that the people she would have to fight are a trillionbajillion times stronger than she is, but partly it's because she's a wuss. Amy has drive, goals, curiosity, desires beyond being with her man forever. She, unlike Bella (and this drives me APESHIT on Bella's side) actually values her friends.
If I got in a fight and I had Amy Pond and Bella Swan with me, I'd toss Bella to whoever we were fighting and then do my best to kick ass as well as Amy would.
Also, it bears noting: someone goes creeping in Amy's house and she hits him over the head with a cricket bat and handcuffs him to a radiator. Someone goes creeping in Bella's house and she thinks it's smexy.
2. He can rock a fez.
There's no deeper meaning to this one. Just - look at Eleven in that short-lived fez, and then look at Edward in the same sort of headgear:
Yeah. NO.
1. He saves the whole world, not just one pathetic girl lacking survival instinct.
When the guy tops io9's list of characters who've saved the world the most, you know he pwns everyone else.
However.
This is also a matter of scale.
I mean, Edward is pretty much immortal, right? And he's all strong, fast, able to read minds, etc. So why isn't he doing something for the greater good? Yes, yes, can't go outside in sun because he sparkles, I know, but there are other things he could do. He's been through high school and college quite a few times; couldn't he be working on a cure for cancer? Or genetically engineering crops to fix world hunger? Or in some way actually
contributing
to the planet? See, you can tell me that Edward Cullen is a good guy, but the fact is he's a pathetic little coward who hides in his corner of the world and refuses to use his gifts to help the rest of the planet and those who are suffering. As for the Doctor, his whole mission in life is to help the world. In one season, he saved the world four times. FOUR. TIMES. He manages to see both the big picture and the small picture, both the personal crises and the lives that need changing and the massive invasions or conflicts. He is not a coward. He does not hide. He fights his own battles and he
wins
.
Want to convince me that Edward is a hero? Put him on the big stage and show me his shine. (or his sparkle, I suppose.)
I should note that while I hated Robert Pattinson as Edward for many reasons, I won't bear him permanent ill will unless he screwed up Water for Elephants. I do like making fun of his portrayal of Edward, and I find him distinctly unattractive.
In conclusion:
Original review:
(view spoiler)
[The first time I read it, I liked it.
The second time, which directly followed the first, I liked it.
Then I took some time off to catch up on the rest of the series. New Moon had me up until two in the morning (though in my own defence I read a chapter of it, a chapter of Silent Spring the whole time). Later, at camp, finding a friend reading it, I borrowed it and flipped straight to one scene to re-read it, just 'cause.
Eclipse was okay, and I was fine with Breaking Dawn on first go-through. (Another all-nighter, on principle this time.)

My problem with Twilight is much less its story (though the sparklepires are dumb beyond expression) and much more its fanbase. It does not deserve this screaming, plauge-of-locusts-like fanbase. Hell, no book deserves that- and this is coming from someone guilty of rabid fangirling, so no grain of salt required.

Eventually, when I've run out of good new things to read, I'll get back to Twilight and give it the thorough, mostly unbiased review all books deserve. I will not read Cleoland before reviewing. I will not read Cleoland before reading. I will not even touch Ferretbrain. I will simply sit down with the book some lazy summer day when I should be writing or hiking or doing AP homework and read it and make notes.

But not now. And probably not this summer. (hide spoiler)]
["br"]>["br"]>["br"]>["br"]>["br"]>["br"]>["br"]>["br"]>["br"]>["br"]>["br"]>["br"]>["br"]>["br"]>["br"]>["br"]>["br"]>["br"]>["br"]>["br"]>["br"]>["br"]>["br"]>["br"]>["br"]>["br"]>["br"]>["br"]>["br"]>["br"]>["br"]>["br"]>["br"]>["br"]>["br"]>["br"]>["br"]>["br"]>["br"]>["br"]>["br"]>["br"]>["br"]>["br"]>["br"]>["br"]>["br"]>["br"]>["br"]>["br"]>["br"]>["br"]>["br"]>["br"]>["br"]>["br"]>["br"]>["br"]>["br"]>["br"]>["br"]>["br"]>["br"]>["br"]>["br"]>["br"]>["br"]>["br"]>["br"]>["br"]>["br"]>["br"]>["br"]>["br"]>["br"]>["br"]>["br"]>["br"]>["br"]>["br"]>["br"]>["br"]>["br"]>["br"]>["br"]>["br"]>["br"]>["br"]>["br"]>["br"]>["br"]>["br"]>["br"]>["br"]>["br"]>["br"]>["br"]>["br"]>["br"]>["br"]>["br"]>["br"]>["br"]>["br"]>["br"]>["br"]>["br"]>["br"]>["br"]>["br"]>["br"]>["br"]>["br"]>["br"]>["br"]>["br"]>["br"]>
Sign into Goodreads to see if any of your friends have read Twilight.
Sign In »
05/12
page 37
7.0%
"I am embarrassed to have ever liked this 'book'." 10 comments
05/12
page 44
9.0%
""He was obviously wondering if I was mentally competent." Oh, Bella, I wonder this more with every page I read."
05/12
page 55
11.0%
"Reasons Bella is already on my nerves: She continually hates on my favorite state, she's hopelessly arrogant, she has little respect or apparent affection for her parents, she's obsessed with Edward after having encountered him only twice (I'm counting this time), she whines about not having friends and then makes no effort, AND DID I MENTION SHE JUST WON'T STOP COMPLAINING ABOUT WASHINGTON?"
05/13
page 76
15.0%
"Chagrin count: 1. Also, what does it say for the Undying Lurve that Bella honestly believes Edward is such a horrible person he would regret saving her life, given that he has no cause to have such regret?"
05/13
page 84
17.0%
""His eyes were gloriously intense as he uttered that last sentence, his voice smoldering. I couldn't remember how to breathe." OH, GAG ME." 9 comments
05/13
page 87
17.0%
"AND YOU WONDER WHY YOU HAVE NO FRIENDS. MAYBE BECAUSE YOU DITCH THEM FOR A GUY YOU'VE BARELY MET? GEE, I WONDER."
05/13
page 92
18.0%
"The eyes are scorching and smoldering again. Are they on fire?" 2 comments
05/14
page 131
26.0%
"And now Bella is being a manipulative bitch to Jacob. Joy oh joy."
05/15
page 243
49.0%
"Trying my darndest not to stray from my planned review, but there is SO MUCH WRONG WITH THIS BOOK I CAN'T EVEN."
05/15
page 251
50.0%
"Chagrin count: 2. Also, we have this quote: "Besides, since I'd come to Forks, it really seemed like my life was about him." " 6 comments
05/15
page 263
53.0%
" Because: "
05/15
page 275
55.0%
"After all that about being the perfect predator, about how everything about you draws people in, Edward, you really think you can say this? "Most humans instinctively shy away from us, are repelled by our alienness." You contradicted yourself within the space of about five pages. BS." 4 comments
05/15
page 292
59.0%
"'"You spied on me?" But somehow I couldn't infuse my voice with the proper outrage. I was flattered.' This sentence would only be bearable if Bella died at the end of this book. As is, GREAT MESSAGE. Don't be mad if people spy on you and find out where you keep the KEY TO YOUR HOUSE. Especially if you know said people are homicidal by nature. THAT'S NOT A PROBLEM AT ALL." 22 comments
05/16
page 308
62.0%
"This is going to seem like a little thing and you all are going to think I'm crazy, but it makes me angry. Meyer does two things I've seen elsewhere that makes me angry, and one thing all her own. 1: She calls orcas 'killer whales', in direct conjunction with 2: she characterizes them, indirectly, as ruthless monsters. And 3, the one that really takes the cake, SHE COMPARES THEM TO SPARKLEPIRES. FUCK NO." 6 comments
05/16
page 323
65.0%
"Can't keep myself from picturing these vampires as East Coast prep school students. Remember that one Smirnoff commercial? In my head, the Cullens look like that. If you haven't seen it, here: http://www.youtube.com/watch?v=PTU2He..." 1 comment
05/18
page 436
88.0%
"Bella is plotting to be a bitch and commit suicide by vampire, and I'm wondering why I thought this book had so much energy in the last few chapters because it is so. slow."
05/18
page 445
89.0%
""It's amazing - some of you seem to have no sense of our own self-interest at all." PREACH, James."
05/18
page 490
98.0%
"Prom scene rings untrue now that I've actually been to one." 7 comments
02/02
marked as:
read
(showing 1-50 of 112)
(112 new)