Thief of Shadows (Maiden Lane, #4)
by
Elizabeth Hoyt
(Goodreads Author)
REVIEW COMPLETED, EDITED JUNE 28th, 2012
"Every gentleman you meet must voice his admiration, his wish to make love to you. And those are only the ones who may voice such thoughts. All about you are men who cannot speak their admiration, who must remain mute from lack of social standing or fear of offending you. Only their thoughts light the air about you, following you like a trail of perfume, heady but invisible."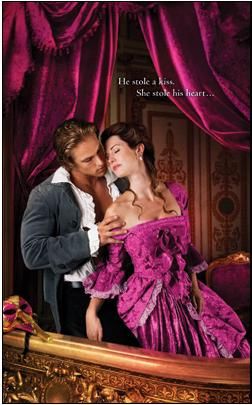 Baroness Isabel Beckinhall's carriage had come to a standstill in the worst part of London--the streets of St. Giles. She is in St. Giles because she'd volunteered to represent the
Ladies' Syndicate for the Benefit of the Home for Unfortunate Infants and Foundling Children
at the final inspection of the new home. The carriage had come to a standstill because of a wounded, not-yet-dead man. This man is dressed as a harlequin. It's the notorious
Ghost of St. Giles.
Isabel's footmen put him in her carriage and when they arrive at home, she's tending to his wounds. Unfortunately, the next morning he's gone without revealing his identity.
Since the new home's grand opening, Lady Penelope--a member of the
Ladies' Syndicate
--would like to replace Winter Makepeace as the home's manager. Winter is a perfectly fine manager, but he'd be a disaster in society. They need someone who can converse with a lady without offering insults. Someone who can rub shoulders with dukes and earls. Finally, the ladies agree that someone should teach Winter good manners.
"What we need is a lady who is no longer a maiden. A lady with a full understanding of polite society and its intricacies. A lady with enough self-possession to polish Mr. Makepeace into the diamond we all know he is."
Oh, dear.
Oh, yes, my dear. Isabel you're in for a surprise...
Thief of Shadows
is a very good, entertaining, and enjoyable read, however, I have to admit that I'm not over the moon. The plot, the heroine, and the hero don't stand a chance against
Scandalous Desires,
Silence, and
my
Charming Mickey. Yes, Mickey totally blew me away! <3 <3 <3 Honestly, I'm a little bit disappointed since I expected another five-star read. Sadly, this was not going to happen. 
Beyond doubt
Thief of Shadows
features interesting and complex characters, witty and richly-textured dialogue and a delightful love story. I liked their little game of cat-and-mouse and Isabel tutoring the reluctant and rather 'unwilling' Winter was entertaining to witness. From time to time these two gave one another a piece of their minds, that's for sure. Sometimes I really had to smile. I appreciated the steam factor as well. That said, I wouldn't have expected anything less from this author because one thing's for sure: when it comes to sex/love scenes, then Ms. Hoyt delivers in spades! I really adore the author's ability to create so much intimacy and heat during a love scene. Not every author can do that. Kudos, Ms. Hoyt! Winter is a virgin. And yet he is a very quick study and boy, does the man talk…really sexy I'd say. I loved the way Isabel guided him and showed him what she liked and how he should touch her. On the one hand, it was sweet and on the other hand, it was sensual and erotic. Although Winter is sexually inexperienced, he is open-minded and on top of that, he is quite adventurous. Moreover, it was interesting to see how he took over the reins, and I felt that Isabel was quite a bit surprised by his demeanor. Well done, Winter. 
Without a doubt Winter is a honorable, devoted, and self-sacrificing man. He cares for those he loves. 
"I want them to care  just as much about a poor child as they do a gentleman. I want them to make sure every child is fed and clothed and housed. I want them to see that London cannot continue this way with people dying in the gutter."
What I disliked
At a certain point of the story I just felt that I've had enough of the
Ghost of St. Giles.
The ever-present masquerade was a bit tedious. I'd have preferred to see more relationship development between these two instead of Winter hopping over the rooftops all.The.Time. I didn't appreciate it either when Isabel insulted Winter. Admittedly, she was hiding a painful secret but I found it needless to lash out the way she did. It was a low blow. Overall, her character was not very lovable even though she certainly had her moments. I don't like it, though, when a heroine is acting snobbishly.
What I found kind of weird
Winter's physical appearance in
Scandalous Desires
was very different. He was described as very thin and unhealthy looking. Uh, yeah, wonders never cease! *cough* 
Final verdict
This is a must read for every addict of the
Maiden Lane
series and I hope that you'll be enjoying Winter's story, too. I'm already looking forward to reading
Lord of Darkness.
"I'll never look at you in any way but complete admiration."
Sign into Goodreads to see if any of your friends have read Thief of Shadows.
sign in »
| | | | | |
| --- | --- | --- | --- | --- |
| 06/26/2012 | | | 42.0% | ""Every gentleman you meet must voice his admiration, his wish to make love to you. And those are only the ones who may voice such thoughts. All about you are men who cannot speak their admiration, who must remain mute from lack of social standing or fear of offending you. Only their thoughts light the air about you, following you like a trail of perfume, heady but invisible. Liking it so far!" |
(showing 1-20 of 20)
(20 new)
date
newest »
back to top