Insurgent (Divergent, #2)
by
Veronica Roth
(Goodreads Author)
2.5 stars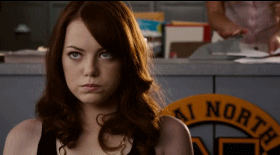 If you have been following my status updates for
Insurgent
, this gif will look very familiar to you. That is because I have used it twice in a row. I wanted to use it again, but that might have been overdoing it. Sadly, I didn't enjoy
Insurgent
as much as I thought I would. The first 100 pages were a total snore-fest and I was literally vibrating my lips just like that, because that was more interesting than what I was reading. I already have concentration issues, and
Insurgent
didn't hold my attention for very long. I really wanted to like this book. I wanted to love it and marry it and have tiny literary babies with it. I had high hopes. Very high hopes. Maybe too high. I think it is safe to say that
Insurgent
was my most anticipated book for this year. I needed this book, I was yearning for it. And it left me sorely disappointed.
Since I read
Divergent
only a couple months ago, I didn't have any trouble recalling who everyone was and what happened. Nevertheless, I did read the summary Veronica Roth provided us with and it freshened up my memory. I was good to go. I actually liked the fact that there were no pages wasted recalling everything that had happened in the previous book. That's typical for this series – the speed. No time wasted. Just getting straight to the point. And I liked it. Lord knows this book was long enough as it was.
Tris was not the badass girl we knew from last time. Don't get me wrong, she had every right to be sad and less badass. I completely understand. I am a very empathetic person, you see. *nods* She lost both of her parents and killed one of her best friends. That's bound to leave permanent, emotional scars. But she also turned into a whiny, Bella Swan-like persona, constantly whimpering about her past actions (the past is the past, Tris! You can't change what happened!) and her relationship with Four. And don't even get me started on Four. Okay, you've asked for it. Four, or
Tobias
as dear Tris now so lovingly calls him, was not the brooding, sexy Four we knew from
Divergent
. He was selfish (a Dauntless trait), mean, judgmental and not likeable at all. I was not able to swoon over him (a girl needs to swoon!) and basically I just wanted to whip him with a belt (oh yeah,
I went there
).
There were too many unimportant characters I couldn't care less about and the villains were so easily dealt with that it was laughable. As was the
major cliffhanger
. Only not. I saw the ending coming from miles away. It did not make me gasp, nor did it make me beg for more. I won't have any trouble waiting for the third instalment, though I will read it, because I want to know how it ends. I assume this is a trilogy? I just hope
Insurgent
suffered from the 'Second Novel Curse' and Detergent (or however the third book will be called) will be a lot better again.
And Tobias, I'm warning you. You better not be a fucknuckle anymore, or you'll have to deal with my knuckles.
Sign into Goodreads to see if any of your friends have read Insurgent.
Sign In »
06/12
page 1
0.0%
"I have heard plenty of things about this book without ever coming across a single spoiler, so I'm pretty proud of myself.

The moment of truth." 2 comments
06/12
page 52
10.0%
" " 3 comments
06/13
page 102
19.0%
" " 7 comments
06/13
page 152
29.0%
"Okay, things are finally picking up! About time too."
06/13
page 162
31.0%
""I watch him walk away. I feel like a space has opened up within me, expanding so rapidly it will break me apart."

Agh that sounds like New Moon."
06/14
page 238
45.0%
"All right, it's getting better. Still no Divergent, though."
06/14
page 276
53.0%
"Ding dong the bitch is dead. Well, one of 'em."
06/15
page 307
58.0%
""I thought I had gotten to the point where I didn't need my brother anymore, but I don't think such a point actually exists."

<3" 5 comments
05/11
marked as:
read
(showing 1-32 of 32)
(32 new)
date
newest »
back to top