Grave Mercy (His Fair Assassin, #1)
by
R.L. LaFevers
(Goodreads Author)
Steph Sinclair
's review
bookshelves:
ebook
,
netgalley
,
2012-release
,
young-adult
,
historic-fiction
,
fantasy
,
e-arc
,
2012-reads
,
ass-kickin-heroine
,
could-have-been-better
,
disappointment
,
fell-for-the-hype
,
i-totally-saw-that-coming
,
it-wasn-t-all-that-but-enjoyable
,
le-sigh
,
original-and-creative
,
pretty-covers
,
too-long-don-t-care
,
what-kind-of-ending-was-that
Recommended for:
Those who enjoy YA Historic Romance with a twist
Read from March 19 to April 02, 2012, read count: 1
Actual rating 2.5 stars
Grave Mercy
started out very strong for me with its historical roots. I instantly loved Ismae and could empathize with her bleak outlook on life. The novel had strong characters, a good plot, and political intrigue. I mean, c'mon! An assassin nun?! A badass premise like that is just begging to be read and loved. So what in heaven's name went wrong for me? Why am I only giving this book 2.5 stars?
Well, I'll start with what I actually liked first. I did like all the characters, especially Ismae. It's a big deal for me to like the heroine since I usually hate them due to their inability to use their brains. But not Ismae, she's a smart cookie. This isn't shocking since I'd wager it does require a certain amount of neurons to assassinate someone. And while she does carry prejudices against men due to her harsh childhood, there is a good amount of character growth for her. So, gold star for her. Duval, the love interest, while initially not appealing to my co-blogger, won me over fairly easily. And for all those wondering, the "His" in "His Fair Assassin" is not referring to Duval. It refers to Ismae's god, Mortain. At least, I'm pretty sure. Lol.
I also really liked the plot and the historic features. I can tell LaFevers did lot of research and it truly does show. Many of the characters in the novel are real people and the events occurring, real events. I felt it was a nice change in pace to the usual YA books I've read.
But the good points just weren't enough for me to love this book. Unfortunately, the negatives outweigh the positives. *sigh* Another book falls short of badassery.
First of all, I probably would never have picked up this book on my own if Kennedy hadn't suggested a read-a-long. I choose to avoid historic fiction for a myriad of reasons, the most important being: It's just not my cup of tea. When I have to sit down and think about the setting, time period, a huge cast of characters I have to keep up with, political talk, yada, yada, yada... it just turns me right off. It's too much. And I don't like having to concentrate while reading for enjoyment. In this case, I liked it, but then, I didn't like it. For the first portion of the novel, I was unsure of *when* in history this book took place. Personally, I cannot sit back and enjoy a novel if it feels like I'm missing a crucial part of the story. And the time period was important for me. European history is just not my forte, so I took to Wikipedia looking for answers. Unfortunately for me, I now knew how the story would eventually end unless Levers decided to deviate from history. But at least I knew the time period is the late 1480s. Yay for me. Boo that I had to work so hard to find the answer.
Anyway, that was the first strike. The second? Boredom. Right around 40% the high from the strong beginning began to fade and along with it, my eyelids closed more often then I'd like them too. Ismae is a trained killer, but there wasn't much killing going on. In fact, there was mostly too much talking about the political plans being made to ward of the French from invasion. Honestly, I couldn't care less about any of that. I WANTED BLOOD. Then it got boring. Ismae spent more time talking about all her cool weapons, than using them. She'd go on and on about her poisons and how she could kill someone with this weapon or that poison. I wanted her to take a page from Nike.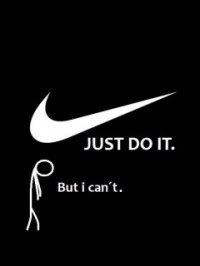 No excuses, Ismae!
*FRUSTRATION* What good is an assassin nun that just wanders the castle?! Do something! Anything. Do the Macarena. Sing a Ke$ha song!
But, I was still interested enough to continue on and I'm glad I did, because it started getting interesting. However, that leads me to my forth point...
This book was entirely too predictable. Could the bad guy be anymore obvious? LaFevers pretty much dangled him in front of us the entire novel like a carrot, so by the time the main characters goes, "It was you!" you're thinking, "It's about time." And that really made me sad because I thought, "There was no way it can be who I think it is. It's just too easy. There has to be one last plot twist." Sadly, there wasn't one and because of that, I think the ending suffered greatly.
Speaking of the ending, it felt incredibly rushed to me. All conflicts came to a more or less, hurried happy ending. As soon as the baddie is caught the book has nothing more to do then fall back on its underdeveloped romance between Ismae and Duval. That's not to say I disliked Duval and Ismae. I actually liked both characters a great deal, but together? Not so much.
Grave Mercy
spent entirely too much time revolving around the mystery and not much time developing the relationship. I think the book needed to make its mind up: Romance or plot. It couldn't have both believably, in this case.
*mild spoilers* But the part I really disliked about the book was the scene where Ismae had to purge poison from Duval's body by having sex with him. I was relatively enjoying the book up until that point. When I read that scene I rolled my eyes so hard. I mean, really?! REALLY?! She is a nun assassin and the biggest gift Mortain gives her involves her sexuality? She becomes a human bezoar! Would ya look at that? A woman's body really
can
be objectified in almost any profession! Awesome. \(-_-)/
The next book appears to be about Sybella, who I thought would have had a bigger role in this installment. The mystery surrounding the girl was thrown at the reader several times and we are given no information about her assignment. Same goes for Annith's story. I found that incredibly frustrating. I realize this is supposed to be a series and perhaps their stories will be told in the sequels, but leaving those gaps made
Grave Mercy
seem incomplete. I can't help to think the book would have been stronger as a stand alone novel instead of stretching their stories out over three books.
So, will I continue on with this series? At this time, probably not. But I would still recommend it to others looking for a change-up in their usual YA readings, especially those who enjoy historic fiction with romance and a pleasant splash of paranormal.
More reviews and other fantastically awesome things at
Cuddlebuggery Book Blog
Sign into Goodreads to see if any of your friends have read Grave Mercy.
sign in »
Quotes Steph Liked
"When one consorts with assassins, one must expect to dance along the edge of a knife once or twice."
―
R.L. LaFevers
,
Grave Mercy
"I stare at him coldly. "I do not care for needlework." I pause. "Unless it involves the base of the skull."
―
R.L. LaFevers
,
Grave Mercy
(showing 1-50 of 51)
(51 new)