At Grave's End (Night Huntress, #3)
by
Jeaniene Frost

(Goodreads Author)

,

Tavia Gilbert
Elisandra Franzmann
's review
bookshelves:
audio-book-reading-challenge-2012
,
audio-books-i-have
,
best-books-ever
,
book-where-scary-things-happen
,
books-about-ghouls
,
books-about-the-supernatural
,
books-about-vampires
,
books-from-2010
,
books-hot-hot-hot
,
books-just-for-the-fun-of-it
,
books-that-brings-me-tears
,
books-that-has-vamps-with-a-twist
,
books-with-a-kick-ass-lead-characte
,
books-with-bad-ass-covers
,
books-with-good-vamps-and-bad-vamps
,
reading-challenge-2012
,
books-reviwed
,
books-with-five-stars-review
,
e-books-i-have
Read from January 15 to 18, 2012
Reviewed on 01/25/2012The plot -
Cat and Bones together again and above that on a leash LoL So Cat is Bones' boss now and she gets to boss him around. How cool is that?????? Superduper cool.But happiness is not for ever and now this really old queen is after them. Yep, like I didn't see that one coming.
The Characters-
Cat's mom. Wow, she is like, I mean, wow. She has my reapect. That's all I'm saying. Cat's dad, Oh my, I believe I can't hate a fictional character more then I hate him. I hate him, I hate him, I hate him with all my guts. I wish I could cut him and watch his pain as it grew back so I could cut again, and again, and again. Well, you got the point, I hate him. Oh, but there's some really cool characters too. Vlad, we get to meet Vlad!!!!! I mean, this is a biiig deal bro. And he is , no, I'll not say another word. Go read the book to find that out. Yep, I am a mean girl. Go tell on me to your mama, Cry baby. Cat is still the Cat we know and love. Bones, oh, do I even have to say it? Ok, I love him, love him, love him, love him.
This is the part that everyone was expecting and that makes this whole review worth it. The Bones pic. So, we already had James Marsters and Justin Hartley, now I give you Henry Cavill:
Isn't he dreamy, Simon?
Yeah, I agree.
The Written -
Again, this author doesn't let me down. Luve the dialogues, the internal ones too. Cat has this crazy logic about life that is hilarious to read it. Oh and the love parts. Let me tell you, I'll never think about a jealousy driven fight the same way again. So hot that makes my popsicle melt. LoL
The recording for the Audio Book -
Ok, this is waste of time by now so I'll just say it I love it, I love it, I love, I love it. This girl is fantastic and I love her. I guess I made my point about my head over hills passion over this recording and this narrator.
Considerations -
I consider this series a kick ass one and you must read it. Now! LoL. Ok, in this book we see possessiveness issues as well as the old racism we all are familiar with. But there's trust and love and how people can surprise you even though you know them your whole life. How someone can be blind by love and all of that. Decisions are made in this book and I have to confess, I cried my eyes out with it. I'm talking about a series that had already 6 books when I read this book and still it scared the heck out of me. That's not cool Jeanine, not cool at all.
This reading is part of the following reading challenges: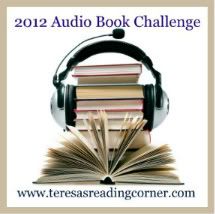 Sign into Goodreads to see if any of your friends have read At Grave's End.
sign in »
Reading Progress
| | | | | |
| --- | --- | --- | --- | --- |
| 01/15/2012 | | | 1.0% | "I can't get enough of this series." |
| 01/16/2012 | | | 20.0% | "SHIT JUST GOT REAL " |
| 01/16/2012 | | | 28.0% | "This is getting exciting by the sec,, " |
| 01/17/2012 | | | 34.0% | "Bones, you are sizzling,,prrrrrr,,," |
| 01/18/2012 | | | 58.0% | "Juju, I don't f**ing,, no way,,, Oh my gosh. Who are you and what you've done with Cat's mom?" |
| 01/18/2012 | | | 70.0% | "wow,,, nothing more to say,,just,, wow,, *-*" |
| 01/18/2012 | | | 100.0% | "Why did I wait so long to read this series is still a mystery to me,,I'm addicted and I can't stop,," |
No comments have been added yet.