One Foot in the Grave (Night Huntress, #2)
by
Jeaniene Frost
(Goodreads Author)
Elisandra Franzmann
's review
bookshelves:
audio-book-reading-challenge-2012
,
books-about-ghouls
,
books-about-the-supernatural
,
books-about-vampires
,
books-from-2008
,
books-hot-hot-hot
,
books-that-has-vamps-with-a-twist
,
books-that-make-u-think
,
books-with-a-kick-ass-lead-characte
,
books-with-bad-ass-covers
,
books-with-good-vamps-and-bad-vamps
,
e-books-i-have
,
reading-challenge-2012
,
books-reviwed
,
books-with-five-stars-review
Read from January 11 to 15, 2012
Reviewed on 01/25/2012The plot -
Kate is flying solo now and is working for the Big Guy now. She has a new life and a new name. Four years has passed since she met Bones. Ok, this is where I can't take it. You know the plot. If I get more in it I'll start crying again. I'm reading the 5 book and this part still hurt me, missing Bones. The Synopses says it all.
The Characters-
I'll try to be brief here cose this part I love about this series and I'll end up extra babbling over it if I don't watch myself. Lots of new characters all of them fab in their particular way. Even the bad guys are just the way we love to hate. Cat = kick ass, Cat's mom = annoying and I want to punch her , Bones = oh, yes, yes, yeeeeeees. I get chills all over me just thinking of him. He is funny, mean, wicked, play dirty but above it all, he knows how to treat a lady no, really, he never lay a hand on a lady unless she can handle it and would never, ever, force himself on a lady. But this has never being put to the test cose, come on, It's Bones we are talking about. He doesn't need to force nothing on anyone.
Ok, this is the part where I put a Bones pic, but I decided to put a different one so you guys can pic the one you like the most. Last review was James Marsters, in this one I give you Justin Hartley: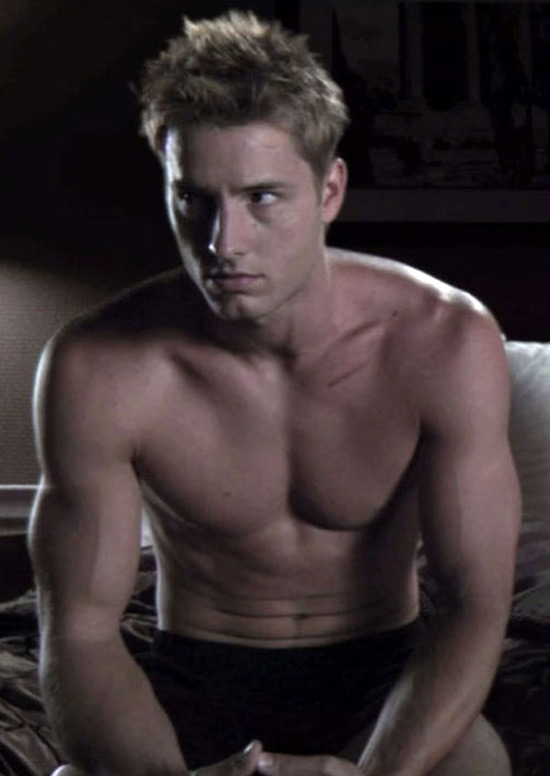 Sooooo hot.
See? He even has a red head= Cat :D
Blond hair, brown eyes, prrrrrrrrrrrrr,,,
Ok, I'm getting a little dizzied over here, lets get back to business now, shall we?
The Written -
The dialogues are the best part of her writing. They are witty and have this wonderful flow to it. I love her style and since I'm reading book 5 I can say that it stays awesome along the series. Oh, and addictive too cose I can't seem to stop reading it. I dream about it and can't stop thinking about it neither.
The recording for the Audio Book -
I love it, I love it, I love, I love it. This girl is fantastic and I love her. Did I mention that I love it? Yeah, I love it. For one simple reason = she acts through her voice and is so spot on it amazes me. The voice tone, the way she say the lines, I got a real serious case of nonstop grinning every time I heard her reading cose she makes the text really come to life and I believe that this is one of the main reasons I love this series so much.
Considerations -
Racism is a real palpable theme in this series as well as prejudice and pride. I can say that this series is like candy apple. All the sugary sweet and deliciousness on the outside with the healthy interior.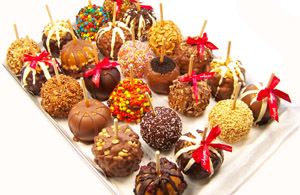 This book is fun and addictive in a really non sense way, but if you look close enough you'll find the serious stuff in it too. The way Cat's mom treats her is an example of this. The fact that Cat decided on her on that leaving Bones would be better for everyone even without talking to him about it. How, even though Cat is half vamp, she don't like them. You get my point, right?
This reading is part of the following reading challenges: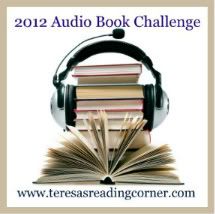 Sign into Goodreads to see if any of your friends have read One Foot in the Grave.
sign in »
| | | | | |
| --- | --- | --- | --- | --- |
| 01/11/2012 | | | 1.0% | "Once I've try to stop eating sweets, cose I love sweets and when I eat too much I get head ache. It lasted 2 days. By the 3º day I found myself with a chocolate bar having the time of my life. Well, long story short,, this series is like a delicious candy bar to me and I love my withe chocolate,, Bones " |
| 01/12/2012 | | | 2.0% | "4 years??? I would go mad. LoL,," |
| 01/13/2012 | | | 11.0% | "Kitten,, what are you doing?" |
| 01/14/2012 | | | 50.0% | "mind blowing alert!!!!!" |
| 01/15/2012 | | | 70.0% | ""I'm going to knock the slut out of you." LoL Oh, Cat,, you crack me up LoL,, you go girl,," |
| 01/15/2012 | | | 78.0% | "I'll never look at fangs the same way again. LoL" |
| 01/15/2012 | | | 86.0% | "Ian, you son of a bitch,,," |
| 01/15/2012 | | | 90.0% | "OH MY GOSH!!! I did not expect that" |
| 01/15/2012 | | | 100.0% | "me likes this ending. me happy :D" |
No comments have been added yet.